Windows 10 has broken past 110 million installations, but it seemed to be more of a consumer play than business play in the initial months. This is hardly a surprise. Consumers have always adopted new operating systems faster than businesses. If the reverse were true it would be unusual and alarming.
For the last few Windows releases, businesses were exceptionally slow to upgrade. They went by the conventional wisdom of waiting for the first Service Pack, which usually came a year after the OS was released. This made sense in the time of Windows XP. But in this era, where fixes are now pushed out almost weekly, it does not make sense.
And it seems businesses are ready to jump a lot earlier than before. New research by Spiceworks shows Windows 10 has a lot more of a tailwind among business users than Windows 8 did. 
Three months after the launch of Windows 10, its overall penetration of the business market is 11%, a rate 20% higher than Windows 8 had at the same time. The biggest mover is North America, with 12% of companies making the jump, followed by Europe with 10.6% and Asia-Pacific 8.5%.
Among industries, the software industry has the highest rate of adoption at 19.2%, which makes sense since they have to get to porting their applications to Windows 10. Software is followed by the retail, entertainment, and insurance industries, all tied at 11.8%, and engineering right behind them at 11.7%.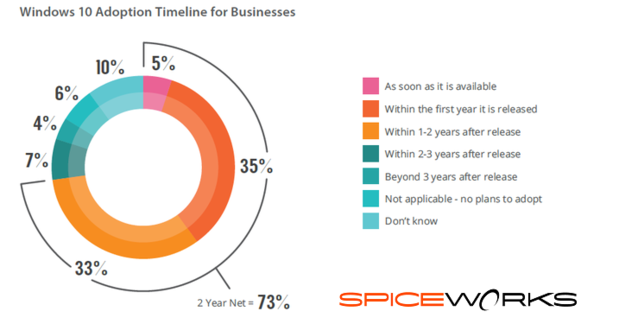 When Spiceworks asked firms before launch whether they would upgrade to Windows 10, 40% said they intended to upgrade within a year. Spiceworks says that if the rate of adoption continues, it will exceed that initial 40% figure. 
The most interesting stat from Spiceworks is the size of companies adopting Windows 10. Large businesses with 1,000 or more employees have an adoption rate of 22.7%, while small businesses of under 50 employees have an adoption rate of just 5.3%.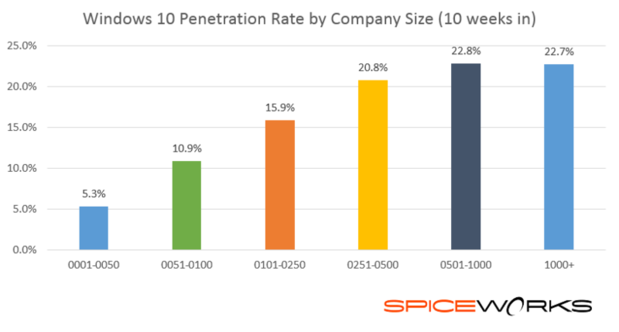 One would expect the opposite, since the larger firms tend to move more slowly and would have more applications to test and qualify, while smaller businesses tend to be more nimble in their buying. However, there is a flip side: smaller businesses are also more economically constrained, especially these days, and Windows 10 is likely getting into companies through new laptop purchases, which a large firm is more likely to be able to afford.
Of course, with Microsoft's pushy upgrade behavior, it's a wonder there aren't even more Windows 10 installations, whether people wanted it or not.