Is Padmasree Warrior in line to take a seat on Microsoft's board? She's been nominated, along with Sandra Peterson, group worldwide chairman of health products giant Johnson & Johnson.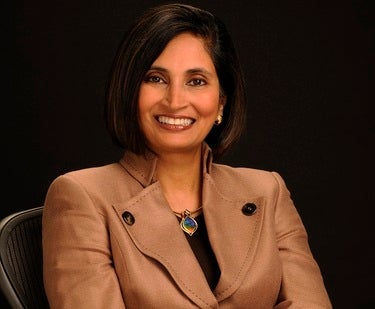 Warrior was Cisco's CTO and chief strategy officer and was one of the executives swept out shortly after new CEO Chuck Robbins was tapped to succeed John Chambers. Warrior was highly visible, always keynoting a Cisco or industry trade show and conference, and is omnipresent on Twitter.
Indeed, she was reportedly under consideration to be Twitter's next CEO until the company named Jack Dorsey to succeed Dick Costolo.
"Sandra and Padmasree both offer strong technology expertise and business experience that will serve as valuable additions to the board," said John Thompson, Microsoft's independent board chairman.
Microsoft will select its new board members at the company's shareholders meeting on Dec. 2.
Warrior most recently served as strategic advisor to Cisco after Robbins was named CEO in June. She left in September. Before that, she was CTO and chief strategy officer from July 2012 to June 2015, and CTO, senior vice president of engineering and general manager of Cisco's global enterprise segment from 2010 to 2012. She joined Cisco in 2008 as CTO from Motorola, where she held various executive roles from 1997 to 2007, including CTO.
Warrior currently serves on the board of Box, a cloud-based, mobile-optimized enterprise content collaboration platform; and retail apparel company The Gap Inc.
More from Cisco Subnet:

Who's Really in Charge at Cisco?

Cisco sues HP over VoIP contract

Ethernet switching in high gear in Q2

HP serves up its open switches

Carriers all in on SDN... Almost

Cisco pal SimpliVity accelerating IPO?

Cisco SDN controller has a security hole

Data center drives Ethernet market

Jane Austen lets the boogie man in: Cisco report

Follow Jim Duffy on Twitter