I had no illusions that attending this week's Babson College Rocket Pitch event outside Boston would give me much insight into the latest enterprise IT topics that Network World focuses on, but the dozen or so 3-minute business spiels I took in did shed light on a new generation of entrepreneurs' thinking. 
This generally 20-something crowd of mainly Babson students and alumni was well spoken and stuck to the program of introducing their business venture, explaining the value proposition (gotta get them using the lingo early!), outlining the opportunity (seemingly always in the multibillion dollar stratosphere) and asking for help, whether in the form of funding, talent or connections. About 90 pitches were made, up from 36 when the program started in 2000, split among categories such as consumer products, service, food/nonprofit and tech/mobile/Web. I hunkered down in the tech/mobile/Web room.
MORE: 10 cool networking and computing research projects
Right away it was clear this was a group of people whose ideas have taken shape within the increasingly mobile and Web-oriented world, with references to new businesses being the Netflix of this or the Uber or Yelp or Groupon of that.
One thing that struck me was the assumption that people are increasingly willing to give up their data. Sigil Interactive, for example, seeks to help brick-and-mortar shops compete better with online retailers with analytics-powered iPhone and Apple Watch apps that bring friends together at places like bars and restaurants and reward them for their efforts ("think group message meets Yelp plus Groupon").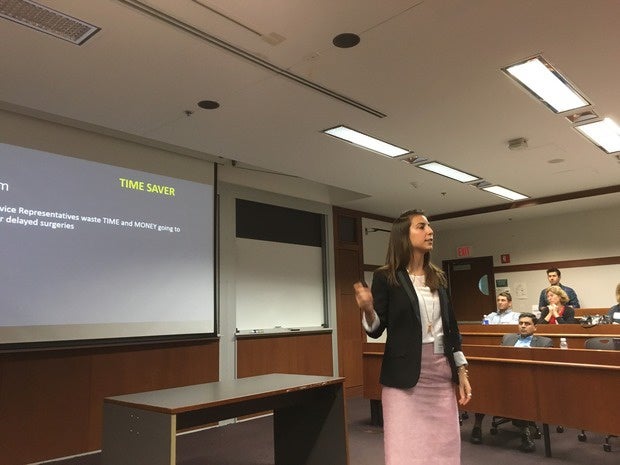 Another theme was a belief that any obstacles to bringing people and data together online could be overcome if the business plan was good enough.
Demand for tech talent was prevalent. Experienced as a tech lead at Zipcar, Naveed Ghalib now wants to "make giving out directions a thing of the past" via a new venture called AddySpot that needs money to create a dynamic website and for mobile app development. Julie Bowerman, a Babson MBA student, needs "technological expertise to determine the feasibility of the idea" behind Shopping Advisor, a venture focused on helping shoppers better visualize how furniture might fit into their home. And Mason Clemence is seeking a CTO to help Court Kings, a web and mobile platform to match up sports court/field availability with those who want to play.
Other entrepreneurs at the event sounded as though they were perhaps further along on the tech side of things.  Scott Weinberg of Libertas, which wants to be "not the first over-the-top [video distribution] solution, but the best and most disruptive," previously worked for a startup that Cisco bought, and his resume also includes stops at Oracle, eDocs, and going way back, EDS. His message was one of starting from scratch, rather than trying to make due with incremental change as so many established companies have done over the years, with sometimes less than stellar results.
And then there was Deniz Emre, whose Qopy found a warm place in my heart. The venture aims to "connect technology companies with great writers, domain experts." Glad to see someone is looking out for tech writers...