While it seems this should have happened years ago, Wal-Mart will be treating online shoppers nearly the same as their brick-and-mortar brethren for the first time this Black Friday. And both crowds will be getting big price discounts, which were revealed yesterday … and we'll highlight below.
+MORE: Eye-popping Black Friday tech deals+
But first here is Wal-Mart's rather late bow to the Internet, according to a report on CNBC:
For the first time ever, the vast majority — roughly 96 percent — of Wal-Mart's Black Friday deals will be available online, starting at 3:01 a.m. ET Thanksgiving Day.

In-store deals don't kick off until hours later, at 6 p.m. local time — the start time it's used for the past three years.

"We're agnostic about [where people shop], and so we should be. Because our job is pretty simple: To give the customer what they want," Wal-Mart U.S. CEO Greg Foran said. "I'm excited about the opportunity to give the customer a choice and leave it up to them."
Seems like an easy choice.
Meanwhile, the Black Friday dedicated website BFAds.net last night posted a copy of Wal-Mart's much anticipated 32-page Black Friday advertisement. Among the deals (check the fine print and caveats):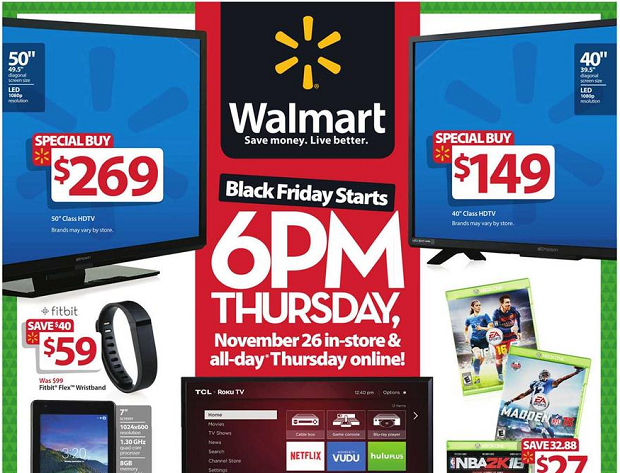 Dell Black 15.6" Intel i3 Laptop for $279 ($120 savings)
15" HP Touch Laptop for $249 (discount unrevealed)
Samsung Galaxy S on StraightTalk Wirelss for $229 ($250 off)
iPad Air 2 Gold for $399 ($100 off).
iPad Mini 2 for $199 ($69 off)
Xbox One, 500 GB, Gears of War Bundle with a $30 Walmart Gift Card for $299 ($50 off).
PlayStation 4 Uncharted bundle $299 ($50 off).
Beats Studio Headphone for $169 ($131 off)
LG 55" Class Smart 4K UHD TV for $698 ($300 off)
You can browse through the ad yourself here.
Welcome regulars and passersby. Here are a few more recent buzzblog items. And, if you'd like to receive Buzzblog via e-mail newsletter, here's where to sign up. You can follow me on Twitter here and on Google+ here.