Sentri wants to guard your home but isn't very good at it yet
This device is a nice idea but it's been oversimplified and under-engineered.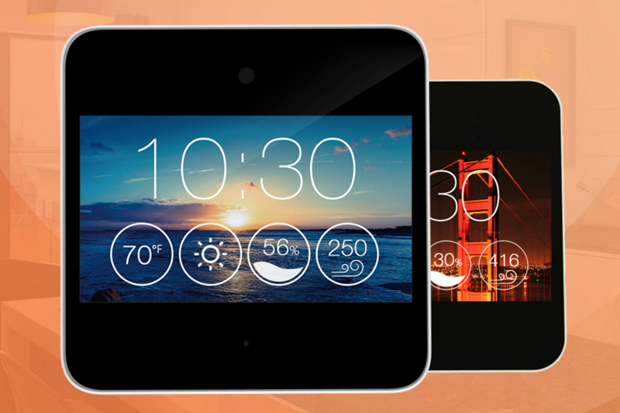 Home automation is now "A Serious Thing"™ with what seems to be a new technology company throwing its hat into the ring just about every day. Today I have yet another entrant to the market, the Sentri, a home monitoring device with a lot of potential but also a lot of problems.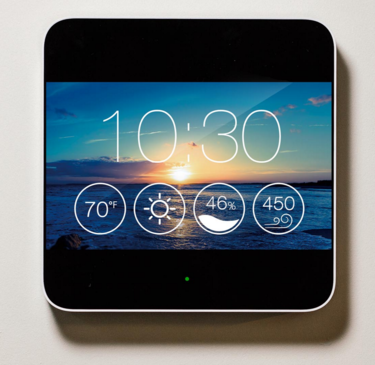 The Sentri is a touchscreen tablet computer that acts primarily as a video home surveillance and environmental monitoring system. It's roughly tablet-size (9.842" by 9.842" square and 1.18" deep) with a 120-degree, wide-angle camera, night vision, and temperature, humidity, and air quality sensors. At any time and from anywhere you can view the Sentri's video using the free iOS and Android apps. 
When the Sentri is set in "away" mode the camera will automatically make recordings when triggered by motion or by significant environmental changes (i.e. unusual sensor data spikes in heat, humidity, or air quality) though you can't set thresholds and the Sentri apparently figures those out for you. In "home" mode, the Sentri just sits there showing its default display. 
You can integrate Sentri with a number of home automation products that currently include the Nest Learning Thermostat, Philips Hue Lights, and Belkin WeMo Switch, WeMo Insight Switch, and WeMo Light Switch so you can, for example, switch on a  Hue light from the Devices screen of the Sentri or the app.
Another feature of the Sentri is a surprisingly loud siren you can trigger from the app. This is a feature I don't recommend testing until you've put your dogs outside because when I tried it, my dogs thought it was the end of the world and … well, let's say hilarity ensued.
The Sentri is straightforward to set up and connects to the Internet via Wi-Fi or by being hardwired into your Ethernet network; power is supplied by a wall adapter. The smartphone apps are equally simple to set up and everything you can do on the Sentri can be done in the app both locally to your network or remotely across the Internet.
The Sentri's default display is of the current local time along with temperature, humidity, and air quality. You can swipe right to reach the configuration screen (there's no password required on this so anyone with physical access can change anything) or swipe left for the alerts log where you can review cloud-stored video from alerts (these can also be viewed in the smartphone apps). Another right swipe take you to the connected home automation devices. Touching any of the environment symbols takes you to a page displaying the current value and a graph of the average measurements for the current day, week, and month.
Now to the Sentri's issues of which there are more than a few. A minor one to start with; the company says that you can choose the display's background image, which is true but only from the collection of pre-defined images on the device. The company has promised the ability for Sentri to connect your Dropbox account in a future update so you can use your own pictures as backgrounds. There's also no brightness control though the Sentri does switch off its display at night.
I tried to connect my Hue lights but when I linked my Hue system, the Sentri promptly removed Hue from the list of supported devices and that was it. I tried the option in the configuration screens on the iOS app and on the Sentri itself to unlink all devices but I could neither control the lights nor get them back to try adding them again. There may be a simple fix but I couldn't find it so I have a support request pending (12 hours have elapsed since the auto-acknowledgement). The Sentri correctly detected that I had a Hue system but didn't discover my Belkin Wemo Insight Switch. [UPDATE] I just tried removing all devices again and the Hue option appeared but on selecting Hue the end result was as before.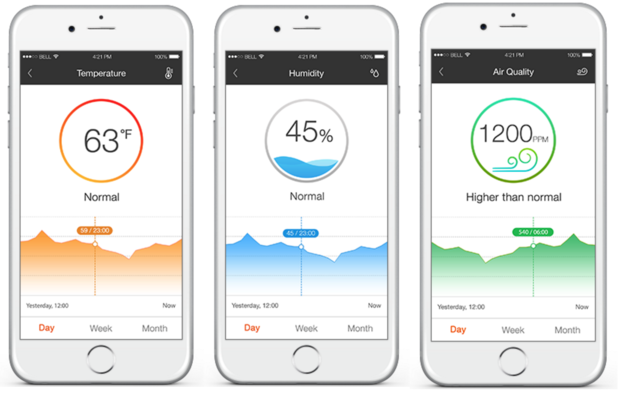 All of the environmental sensor graphs show just the average values and ignore maximum and minimum values. There's no export facility and the air quality is shown as parts per million (ppm) of particulate matter while the scant documentation refers to detecting volatile organic compounds (VOCs), a totally different measurement. Tech support told me that both particulates and VOCs are measured and that the resulting air quality measurement is "a composite value" which makes labelling it "ppm" meaningless.
Also, the video quality isn't great. The barrel distortion is significant due to the wide-angle camera lens, the colors are off (mostly red-shifted), and the image isn't very sharp. You also can't integrate the video output with any other video monitoring systems and you can't create trigger zones in the field of view to restrict movement detection to specific areas (this would prevent the movement of pets from triggering detection events).
You get 12 hours of free video retention when you first setup your Sentri after which you can buy a 7 day ($9.99 per month), 30 day ($19.99 per month), one year ($99.99 per month), or forever retention plan ($299.99 per month). Without a plan you don't have any video or alert history. As you can't do anything else with the video and alerts and given the cost of these plans I think this aspect of the product is gougingly over-priced especially considering there's no Web access to video and event history. In fact, you can't download any videos or alert data at all; its all stuck in the Sentri cloud for now. 
Finally, you can share access to your Sentri with other people but you can only give them full access; there's no granularity of access at all so while it would be nice to give the kids access so they can check on the dog, they could easily trigger the alarm and send your dog into shock (not to mention freaking out your neighbors; yes, it's loud enough for them to hear it).
The potential of the Sentri is enormous but in an attempt to provide a simple solution for home monitoring, the company has managed to create something that is over-simplified and has some bugs that need resolving quickly. But then there are all the features that are missing: Where is the news headline display? The weather alerts? Why no API for displaying custom messages? Why doesn't the Sentri know when I leave the house with my smartphone and automatically go into Away mode? 
That said, overall, the Sentri isn't terrible value considering it's only $249 but it could be a so much more polished and so much more useful. I'm giving the Sentri a Gearhead rating of 2 out of 5.
Thoughts? Suggestions? Send me feedback via email or comment below then follow me on Twitter and Facebook.