Dog and Bone LockSmart: The padlock rethought
A padlock for the Twenty-First Century with Bluetooth LE, a smartphone app, multiple users, and access logging.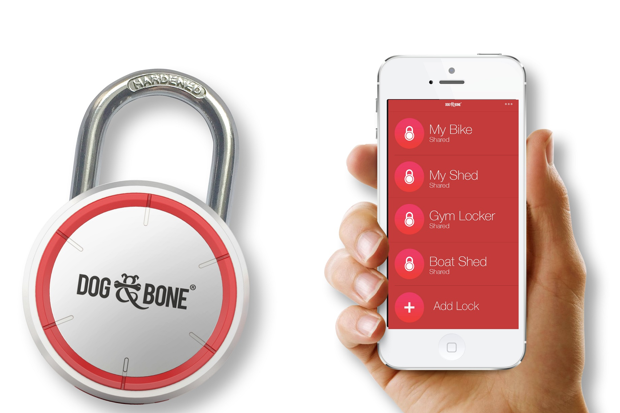 It's amazing what manufacturers have turned into "connected" devices and many of them, for example Bluetooth-enabled toothbrushes, seem more like "me-too" attempts to attract attention rather than real product improvements. Not so today's product which is a great enhancement of a device I've never thought needed to be connected: The good, ol' fashioned padlock.
Dog and Bone, an Australian company that started out making cellphone cases (and obviously enjoys Cockney rhyming slang; "dog and bone" equates to "phone") have recently started selling LockSmart, a Bluetooth LE-enabled padlock and I'd suggest that it's a really useful rethink of how to interact with a pretty old technology.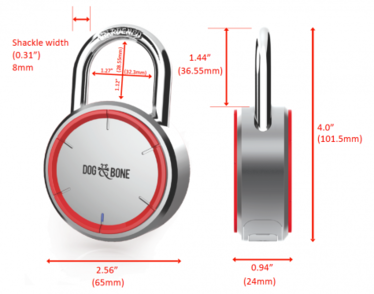 The LockSmart is waterproof, hefty (13.68 ounces), and the shackle is big enough for most general purposes. The lock is battery powered and the company claims the power lasts for "up to 2 years and for as many as 3,000 'opens' before it needs re-charging."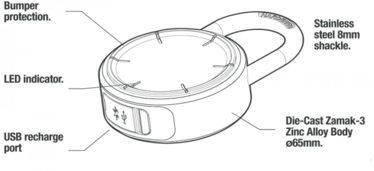 Protected front and back with rubber bumpers, the LockSmart has a rubber gasket on it's bottom edge that covers the mini USB charging port, and a "wake up" button (you can just press on the gasket to wake the lock up). Once "awake" the lock will make a Bluetooth LE connection with the LockSmart app on any phone the lock's been paired with that is within Bluetooth range and if the app has been granted access then it can be opened. You can choose tapping on the app's unlock button, having to enter a a four-digit passcode, or if enabled, using your phone's TouchID. You can add a photo of the padlock and the locks also have create a log that the lock's administrator can examine to see who opened it and closed it and when. 
The smartphone apps can be linked to multiple locks and access to all locks is protected with "128-bit advanced encryption – the highest Bluetooth security standard, plus 256-bit cloud generated private key for added security."
For situations where multiple people need to have access to something that needs to be padlocked and you want to be able to assign or revoke access when necessary and track who has had access and when, the LockSmart is the best solution I've seen. 
Priced at $89.95, the Dog and Bone LockSmart gets a Gearhead rating of 5 out of 5.
Thoughts? Suggestions? Send me feedback via email or comment below then follow me on Twitter and Facebook.