Jabra Speak 810: An outstanding business speakerphone
Excellent sound and lots of connection choices make the Jabra Speak 810 a great business tool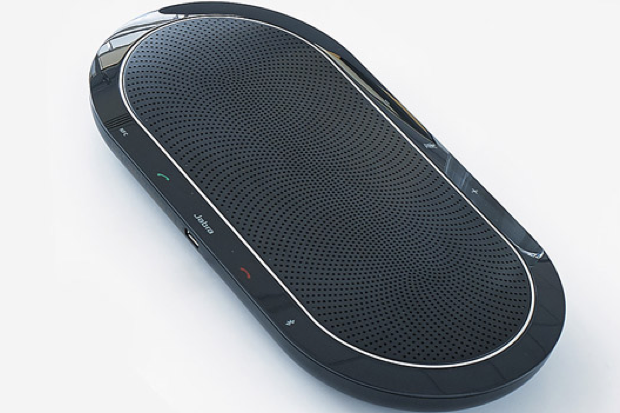 Jabra, one of may favorite tech companies, has a new speakerphone, the Jabra Speak 810, that's really impressed me. 
The Speak 810 is a substantial (14.17" long by 7.09" wide by 1.56" tall) "pill" shape that houses a speaker and six Jabra ZoomTalk microphones which "focus" on the speaker to enhance audio clarity. "Wideband audio/HD voice" is processed by 810's Digital Signal Processor. 
The controls (answer call, end or reject call, volume up and down, microphone mute toggle), NFC zone, and Bluetooth connect are on the rim of the 810 and there's voice guidance (which can be disabled) to assist with connecting to sources. There's also a 2.1A USB socket for charging a smartphone or tablet.
What's makes this device so good, other than the excellent sound quality which "minimizes echoes, background noise, and distortions" (communications service quality notwithstanding), is that provides a lot of connection options.
For sources, the Speak 810 supports Bluetooth (you can have one active source out of up to 900 paired devices) and NFC as well as a built-in cables for connecting to computers via both USB and a 3.5 mm jack. 
Jabra provides OS X and Windows software for integration with Skype, Avaya one-X Communicator, CounterPath Bria, IBM Sametime, and Embedded IBM Sametime installed in Lotus Notes 9.0 as well as allowing Remote Call Control by Jabra USB audio devices.
The Jabra Speak 810 comes in two models; the Jabra Speak 810 UC which supports the Unified Communications (UC) protocol and the Jabra Speak 810 MS which is optimized for Skype for Business. 
Bottom line: The Jabra Speak 810 works extremely well and offers more connection options than its competitors at a reasonable of $599 and gets a Gearhead rating of 5 out of 5.
Comments? Thoughts? Suggestions? Send me feedback via email or comment below then follow me on Twitter and Facebook.