If someone were to grab me by my ankles, dangle my body over a cliff, and demand that I choose from among the Republicans running for president, I would scream "Kasich, Kasich, Kasich," and hope that it wasn't a Trump supporter holding my life in his hands.
Now, Ohio Gov. John Kasich is not going to be the Republican nominee – never mind president -- in part because he would be that reluctant choice for a number of lifelong, liberal Democrats such as yours truly. That appeal is not a feature, it's a bug, if you're running as a Republican these days.
But here's another thing about the guy that may give pause to voters of varied political persuasions: Kasich does not use email, according to this story in The Atlantic. Ezra Klein, founder of Vox.com, flagged the oddity on Twitter and asked the obvious question.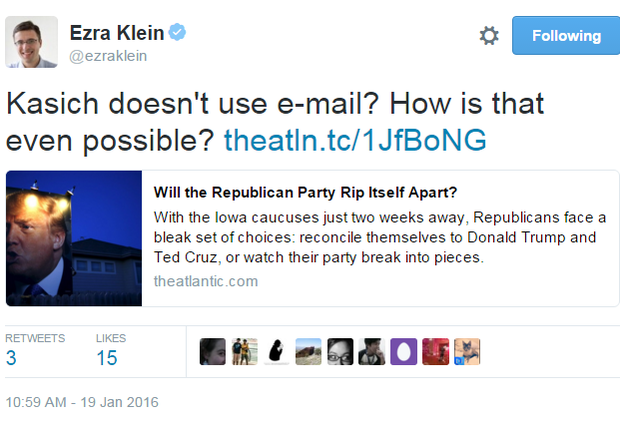 How is that even possible, indeed.
Some on Twitter speculated that Kasich has people to do his emailing for him and others made the obligatory Hilary Clinton email server reference. At least one found the revelation, combined with the fact that Kasich also has no smartphone, potentially disqualifying in that they indicate an inability to appreciate the complexities of modern-day life. That seems a bit harsh.
After all, Kasich does own an iPad.
(Update: It would seem as though an increasing number of Republican primary voters in New Hampshire are either unaware of or unconcerned about Kasich's aversion to email, as he is now running a surprising second there, according to this one poll.) 
Welcome regulars and passersby. Here are a few more recent buzzblog items. And, if you'd like to receive Buzzblog via e-mail newsletter, here's where to sign up. You can follow me on Twitter here and on Google+ here.