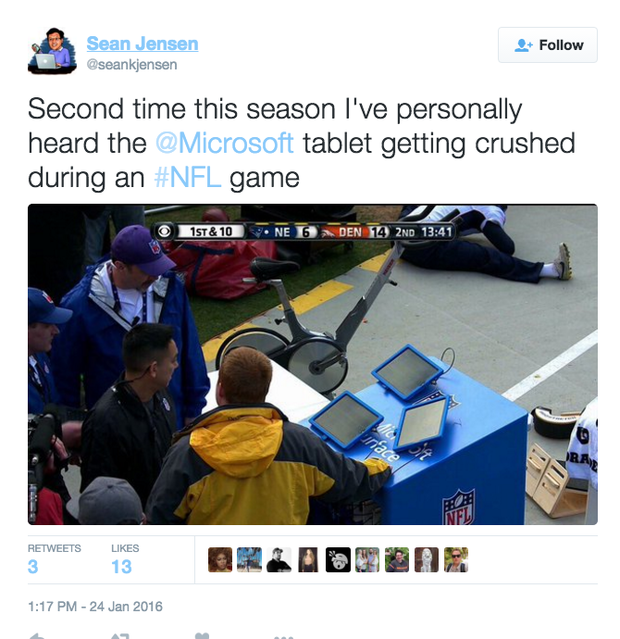 New England Patriots fans aren't doing a lot of finger pointing in the wake of Sunday's AFC championship loss to the Denver Broncos. Denver's defense was just way better than the Pats' offense (especially the offensive line) and the Patriots' had only themselves to blame for having to play the game on the road.
Though Microsoft Surface tablets that became unusable for Patriots' coaches to review plays with during the 2nd quarter did provide some intrigue. CBS sideline reporter Evan Washburn said during the game that Patriots' coaches couldn't access the tablets during the Broncos' second scoring drive.
HOT NEWS: Here's how to get a free Microsoft Surface Pro power cord replacement
While Microsoft's jaunty Surface Twitter account stayed mum during this glitch, many others picked up the slack.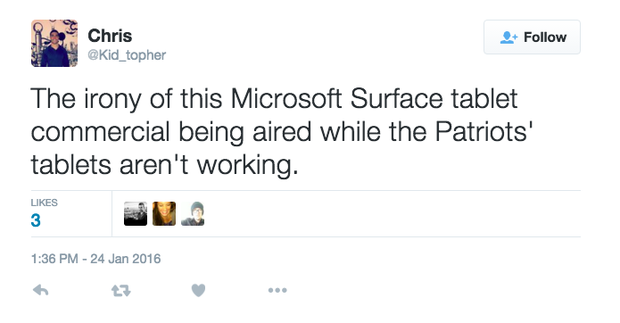 Microsoft did, however, issue a statement about the problem, naturally blaming the computer network.
"Our team on the field confirmed the issue was not related to the tablets themselves but rather an issue with the network. We worked with our partners who manage the network to ensure the issue was resolved quickly."
Non-Patriots fans of course found humor in the Pats' tech problems in light of incidents such as the Pittsburgh Steelers having headset problems at Gillette Stadium in a game against New England earlier this season and fussing about it afterwards.
As for Microsoft, it has done its best to remind people that the tablets being used on the sidelines are Surface devices, not iPads, as announcers and players have mistakenly referred to them. Microsoft in 2013 reportedly paid the NFL $400 million to force its tablets on players and coaches. But this was one case where Microsoft probably would have been just fine with the announcers mistaking them for Apple products.
MORE: Microsoft's NFL partnership enters next generation with new apps