Windows Phone has always struggled in the U.S., but last year it was at least making progress. Almost all of that is being frittered away as the company stalls with the release of Windows 10 Mobile and new hardware, giving Android and iPhone even bigger leads.
According to Kantar WorldPanel's latest numbers, Windows Phone market share in the U.S. for December 2015 was down to a paltry 1.6%. In September, Windows Phone share stood at 3.9%. In February 2015 it was at 4.8%, only a little off its high of 5.6% in 2013.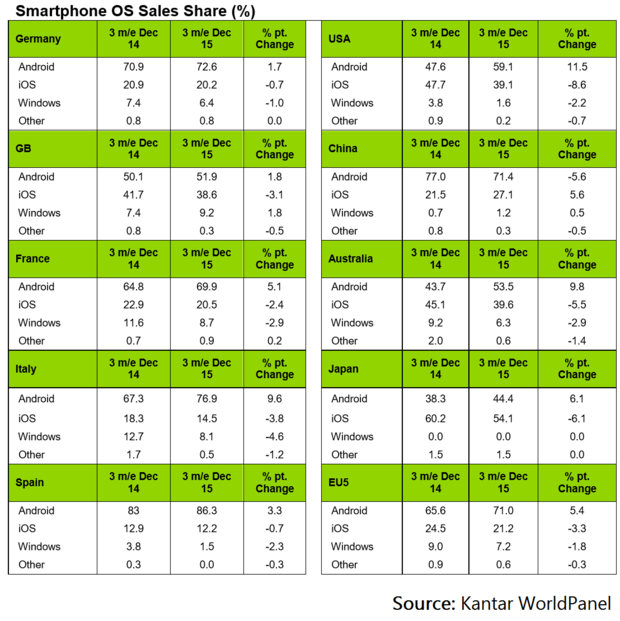 So, why the huge drop from September to December? Kantar didn't get into it, but it's likely safe to say that it had to do with the holiday season, when people are likely to upgrade. But while Windows 10 for PCs is everywhere, Windows 10 Mobile is not. Windows Phone users looking to upgrade had little other choice than to switch platforms. Even worse, Windows 10 Mobile has no release date and its chief proponent, Joe Belfiore, just took a one-year sabbatical.
On the handset side, one new device was released in Q4 of 2015, the Lumia 950, which is only available on AT&T and got pretty much no marketing.
So really, I can see why people would abandon Windows Phone like it were the BlackBerry. Do you see any signs of encouragement?
All is not lost. Europe is still holding on, most likely due to residual popularity from Nokia, even though that brand name is dead. December sales share was at 9.2% in Great Britain, 8.7% in France, 8.1% in Italy and 6.4% in Germany. Unfortunately, those are all down from highs of mid-2015.
Rumors persist of a Surface Phone branding. Reddit users noticed that Microsoft has a new domain, www.surfacephone.com. Would a new name matter at this point, given the low priority the handset business has been given?