We reporters and editors at Network World have received more than our fair share of mis-addressed pitches over the years, some intended for competitors, some reversing last and first names, and some just plain inexplicable. I even recall colleague Paul McNamara getting a letter addressed "Hello Dear!" from his archrival, Bank of America.
All of which brings me to today's Exhibit A: This ever so impersonal marketing message from Harpoon Brewery that began with "Hi, Name!" (See screenshot above.)
MORE: Network company name change madness is upon us
While I acknowledge that Bob can be tricky to spell, this just didn't seem like a good effort. Then again, at least Harpoon didn't go all Comcast on me and refer to me as Ass**** Brown, as the service provider last year did to someone who shares my last name.
As it turns out, I was just one of thousands that our fine local brewery addressed so plainly. Less than two hours after sending me the first of two "Hi, Name!" emails, Harpoon sent this note with the subject line of "Well this is awkward..."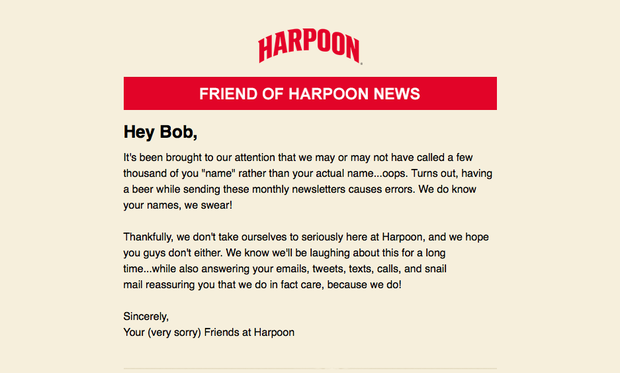 All is forgiven by me at least. And really, Friends at Harpoon, you don't have to send out another message correcting your spelling on "take ourselves to seriously...."