Living in a Super Tuesday state as I do, my reaction when I saw this ad online today was, "Hey, that's smart: Help people find their polling place while reminding them to vote, preferably for Hillary Clinton."

I already know where to vote – there's only one polling location in my town – but I wanted to see if this little helper would give me accurate information. So I typed in my street address and hit "search."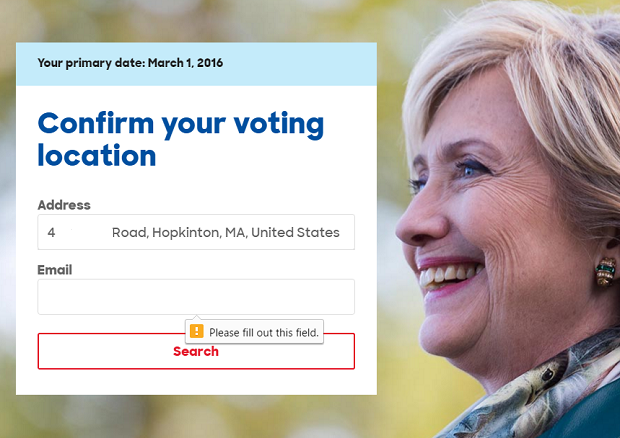 Not so fast there, Mr. Potential Donor, the Clinton campaign replied, we will be requiring your email address in exchange for providing this service. The address, of course, would be completely unnecessary to determine where it is I am supposed to vote.
Displeased, I nonetheless surrendered one of my addresses … in the interest of journalism. (I assume it will be stored on a private server, because conducting campaign business on the government dime is against the law.)
Once I had paid the toll of one email address, the search function worked, and I learned that I am indeed to vote today at my town's lone polling place.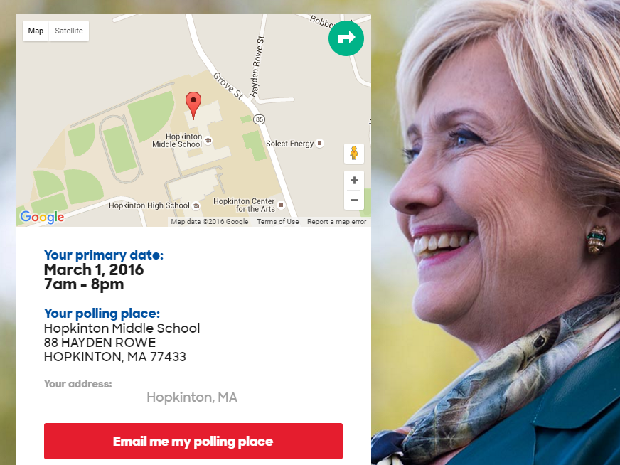 The results screen did include an option to have that information sent to my email address, a feature I assume was included as a fig leaf of sorts in the event anyone such as yours truly were to complain about the price of admission.
And I'm sure I'll be getting that plea for a donation any day now.