Apple Support this week joined Twitter, and in just a couple of days has attracted 133,000 followers and tweeted out some 3,000 responses to queries or problems.
That follower account means Apple has already blown past companies like Comcast and Dell that have had "company X cares" accounts on Twitter for some time, though @MicrosoftHelps has more than 300K followers.
MORE: Best iPhone 7 design concepts of 2016 so far
Apple announced its arrival on Twitter @AppleSupport with this simple message: "We're here to provide tips, tricks, and helpful information when you need it most. And if you have a question, we're here to help with that too."
@AppleSupport is following a mere 21 accounts, including predictably the likes of Apple execs Tim Cook, Eddie Cue, Phil Schiller and Angela Ahrendts. Apple executives have never been known much for their Twitter chattiness (Schiller hasn't tweeted publicly since January 2014), though Cook pipes up pretty regularly and did so this week to promote Apple Support's arrival on the microblogging site.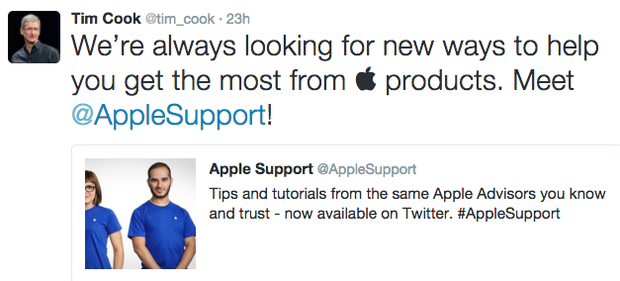 The just plain @Apple Twitter account is inactive.
Apple parody accounts like @NotJonyIve and @Hairforceone (for Apple's Craig Federighi) are generally more prolific than those from real Apple honchos, and it's only a matter of time until an Apple Support parody account surfaces on Twitter, if one hasn't already.
Naturally, @AppleSupport is also needing to filter through prank tweets from the likes of a phony FBI director account looking for help cracking open an iPhone 5C...