Longtime Network World reader John Obeto makes this observation on Twitter: "Madness is where a paperback costs less delivered via Amazon Prime than a Kindle version!"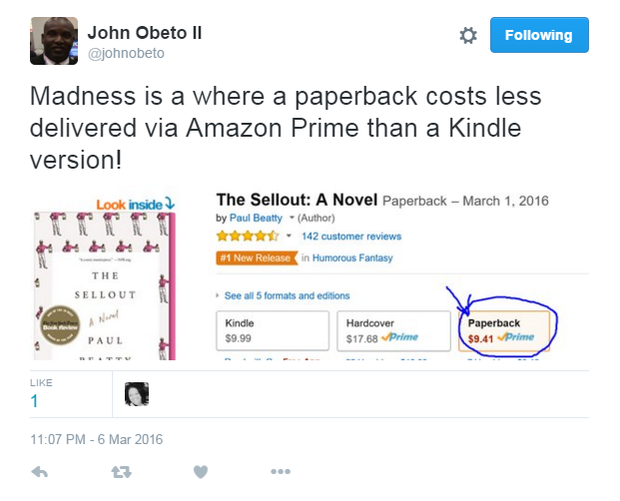 In case those numbers are tough to read, that's $9.99 for the Kindle copy and $9.41 for the paperback.
Obeto bought the paperback, "because, a penny saved. ... Also, I'm an old school guy: actual books do it for me."
The situation reminds me of a decision I faced not long ago when transitioning away from a print subscription to the Boston Globe. Seems I could save money by eschewing the online-only option in favor of letting them drop 50 pounds of newsprint and advertising circulars on my driveway every Sunday morning.
Sorry, trees, I took the extra $100 a year in savings.
Welcome regulars and passersby. Here are a few more recent buzzblog items. And, if you'd like to receive Buzzblog via e-mail newsletter, here's where to sign up. You can follow me on Twitter here and on Google+ here.