The transition of 3.7 million Verizon landline customers in California, Florida and Texas to Frontier Communications, as announced on April 1 of all days, continues to be a mess due to a combination of technical and communications issues.
Unhappy landline phone, broadband FiOS Internet and video-on-demand customers have vented to Frontier support, including on social media sites, to express their frustration. Some have blamed Verizon as well, for not ensuring its residential, small/medium business and enterprise customers would receive a smooth transition after grabbing its $10.54 billion in the sale and shifting 9,400 of its employees to Frontier. (Though Verizon has blamed uncertainty round federal Internet regulation (i.e., net neutrality) for forcing it to sell the assets in the first place.)
MORE: Sorriest technology companies of 2015
More than 4,200 comments have been left on a cheery Frontier Facebook post from March 31 that exclaimed: "We're excited to announce that on April 1, Verizon home services in California, Texas and Florida will move to the Frontier Communications network. This means that if you currently have Internet, TV or Voice service, it will be provided by us. We will continue to provide the same products and services you currently enjoy with Verizon. For more information, please visit: http://meetfrontier.com/how-to-videos/billing-videos"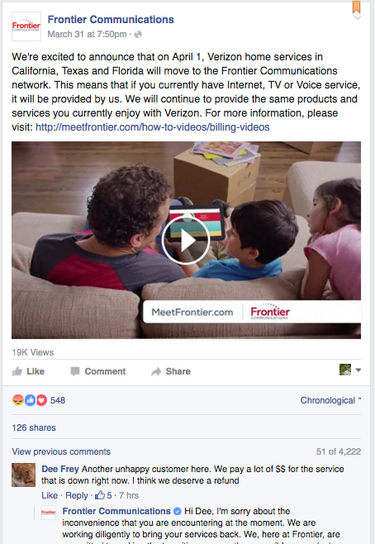 While I haven't pored through all 4,200-plus comments, it's clear that there are way more negative than positive ones. More than 430 people have used "angry" Facebook reactions, whereas about 100 thumbs up and hearts have been used on the post. To Frontier's credit, it has kept the post pinned to the top of its Facebook page and diligently responded to customer complaints and questions. Its @AskFrontier Twitter handle assures customers that the company has tech support on duty 24/7 this month. The beleaguered are threatening to find alternatives, such as Google Fiber.
A sampling of complaints:
*"Frontier must be transferring customer accounts with paper and a pencil. If VOD ever does work, I won't be surprised if it is an etch-a-sketch."
*"Another unhappy customer here. We pay a lot of $$ for the service that is down right now. I think we deserve a refund"
*"At least some people get a response from this company on here. I just dont understand scripted responses to serious problems. Going on day two with no service at all. Fix it now or come pick up your equipment. It is unacceptable to not give answers to anyone. What exactly is the problem? When will it be fixed? Those are questions that you won't answer and truly need to be addressed.like I said if it is not fixed today I will canceling all my service with your company and begin a lawsuit for all the money I'm losing."
*"What a horror story this has been. I can't even download a file and my connection keeps getting dropped. I'm about ready to switch back to cable. The upload may be slow but at least it works. All I am hearing is complaints from all my friends about your switch. Your CEO needs to start telling the truth."
Complaints about the crossover to Frontier started early, including by those who were blindsided by the fact that it was even happening, reports The Consumerist. And local news outlets have been raising questions about if problems for Frontier will ever end (i.e., Tampa Bay Times: "Can Frontier regroup after its bungled Verizon FiOS takeover? Or will this get ugly?")
Meanwhile, California, Florida and Texas continue to be the trouble report hotspots on the downdetector site's Frontier outage map.