That didn't take long.
In an interview published only two days ago by Variety, the head of AMC Entertainment, Adam Aron, suggested that making his company's theaters more "texting friendly" would be just the ticket to attract more moviegoers, particularly younger ones.
As anyone other than Aron should have expected, reaction to the idea was almost universally negative.
And so this morning, while many media outlets were just getting around to reporting on Aron's texting trial balloon, AMC stuck a pin in it via Twitter: "NO TEXTING AT AMC. Won't happen. You spoke. We listened. Quickly, that idea has been sent to the cutting room floor."
Here's more from Aron's statement: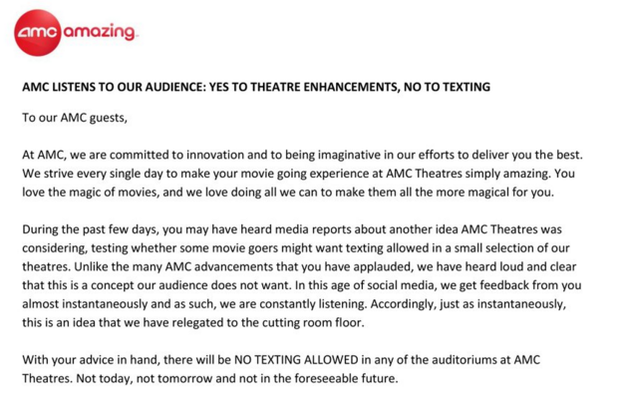 A small victory for common sense.
Now let's talk about those concession prices.    
Welcome regulars and passersby. Here are a few more recent buzzblog items. And, if you'd like to receive Buzzblog via e-mail newsletter, here's where to sign up. You can follow me on Twitter here and on Google+ here.