Brocade announced today the availability of its virtual network function (VNF) Manager. The product is a commercial version of OpenStack Tacker, an OpenStack lead project designed to make it easier to deploy and operate virtual network services. The initiative is compatible with the European Telecommunications Standards Institute (ETSI) Network Functions Virtualization (NFV) Framework.
For those not familiar with NFV, the technology allows organizations to run network services as virtual functions instead of requiring a single appliance per function. NFV has many cost benefits, as it reduces the overall hardware that needs to be purchased and managed. More important, it gives network services the same level of agility as virtual servers and storage. Infrastructure agility is a core requirement of becoming a digital company, and NFV enables that at the network level.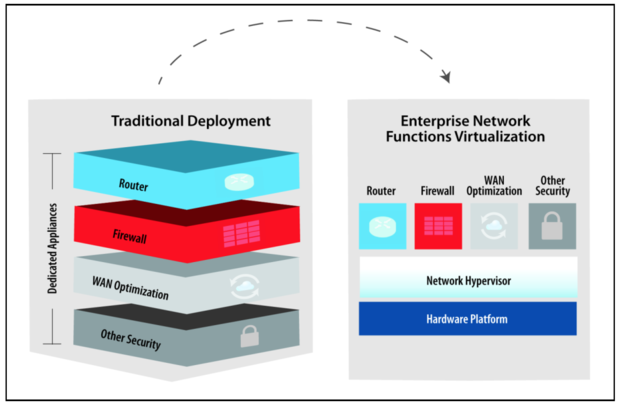 Brocade's announcement of VNF Manager may not seem like an overly sexy announcement, but it is an important one for both service providers and enterprises. Historically, the topic of NFV has been primarily linked to network operators for use cases such as service chaining and on-demand service creation, but NFV is now something enterprises are looking at.
In 2015, ZK Research conducted a survey asking businesses where they are in terms of enterprise NFV. Sixty-one percent were somewhere between the researching phase and deployment. The other 39 percent said they had no plans. But the industry is early in the technology cycle, so I certainly expect to see more organizations embrace NFV as it matures.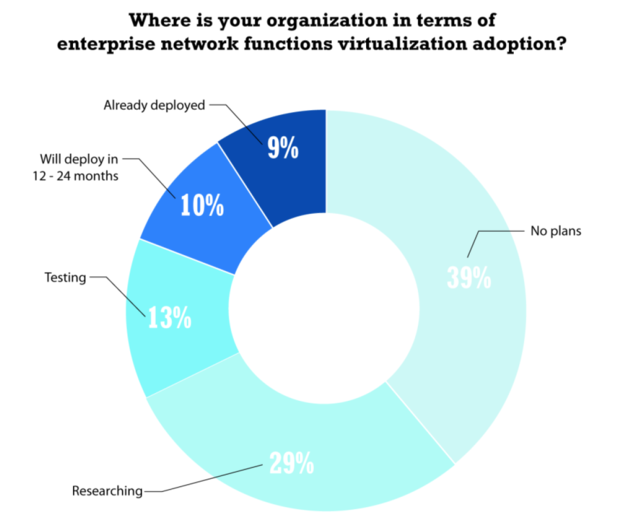 As NFV plans move from the testing phase into large-scale deployment, a product like Brocade's VNF Manager becomes extremely important for the long-term manageability of the network services.
To understand the potential problem, think back to the early days of server virtualization. Initially, the technology was used to consolidate severs. Instead of having 10 workloads on 10 servers, each using 5 percent of the overall capacity, run them all on one server and push the utilization of the single server to 50 percent.
However, over time, server virtualization became increasingly popular for use cases other than consolidation. Application developers, Q/A departments and other groups started using virtualization as a faster way to deploy a server instead of having to physically procure hardware. For the infrastructure team, the self-service model seemed ideal because the groups that needed servers could just provision their own without having to order, deploy and connect a physical box.
Over time, though, the expansion of virtual servers caused an unforeseen problem. So many virtual machines were being created that no one really knew how many virtual servers had been deployed, who owned them or even if they were still being used. I recall a conversation with a CTO from a mid-size bank who told me he had twice as many virtual servers in his company than he had physical servers prior to the deployment of VMware. The explosion of virtual servers was known as "virtual machine sprawl" and was a significant problem for years until VMware developed the tools necessary to manage large-scale virtual server environments.
Avoiding NFV sprawl
Without a tool such as Brocade's VNF Manager, network operations teams risk running into NFV sprawl as virtual network services proliferate across the company. The server industry had to go through significant pain before the management tools were developed, so it's good to see Brocade being proactive about NFV management to prevent its customers from going through similar pain.
Also, VNF Manager is bringing NFV together with software-defined networking (SDN). Customers can use VFN Manager to instantiate the virtual network functions and load them with an initial configuration. The VNFs can then be mounted and managed using Brocade's SDN controller through its southbound interfaces. This enables the lifecycle of VFNs to be orchestrated and be aligned with SDN initiatives.
VNF Manager is offered as a free download from the Brocade website. The download is a full-featured version that comes with a 60-day license, as well as 60 days of free technical assistance center (TAC) support to help customers get the product up and running.
After the 60 days, customers will need to purchase either a one- or three-year license. Brocade offers different bundles for operation teams versus developers, as well as professional services and in-person training sessions to help ensure its customers are successful with the product.
If you're one of the 61 percent of organizations considering NFV, my recommendation is to be aggressive with the technology, as there are tremendous cost and operational benefits. Just make sure you have the proper management tools in place before deploying it.