For most retailers, the time between Thanksgiving and Christmas is the holiday rush. For 1800Flowers, it's Valentine's Day and Mother's Day.
Complicating efforts in recent years has been the venerable online flower shop's extended reach: The parent company acquired the Harry & David brand 18 months ago, which 1800Flowers CIO Arne Leap called a "watershed moment."
"We had a real need to change our order management to support omni-channel, and tie together our commerce platforms," Leap said of the new combined companies.
Through a partnership with IBM, 1800Flowers went to the cloud.
+MORE AT NETWORK WORLD: 25 Mother's Day gifts with geek appeal +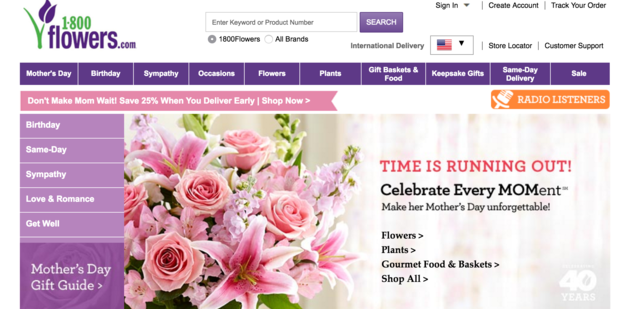 Just a note about this story: I don't mean for it to be a product placement for either 1800Flowers or IBM, but rather I think this is an interesting story showing how the cloud can help companies handle the "holiday rush."
IBM is one of many companies that offer vertically specific software as a service cloud offerings. In the case of 1800Flowers, the company utilized IBM's Sterling Order Management platform, a pre-built software stack, entirely hosted by IBM that handles 1800Flowers' entire back-end ordering process for its multiple brands.
Cloud vendors like Amazon Web Services, Microsoft Azure and Google Cloud Platform offer leading Infrastructure as a Service offerings, but those platforms can be thought of as a Do it Yourself cloud. The infrastructure components are highly customizable, so they make a great platform for building and hosting new applications built for that environment.
Companies like IBM, SAP, Salesforce, WorkDay and many others offer Software as a Service cloud-based applications targeted at specific types of companies. (IBM also has an IaaS named SoftLayer). The Sterling Order Management software, for example, is aimed squarely at supporting online retailers. Leap could have dedicated his staff to build the app on top of an IaaS, but by using a SaaS, he was able to just start using the software pre-designed for the job from IBM.
The difference between building your own and using a pre-built application can be a difficult decision. If a company has in-house expertise to build an app, and the app has complicated customization requirements, then using an IaaS to build and host the app could be the best fit. For companies that just need an app quickly, many look to an existing SaaS first. Then, if there's not a SaaS to fit their need in the market, then they'll build their own using an IaaS or a PaaS.
"Cloud-based technology enables capabilities of being able to rapidly expand, rapid to spin up," Leap explains. "And it's the entire stack, offered as a service." 1800Flowers contracted for the cloud-based Sterling Order Management system in January of 2015 and began taking orders by July. Leap's goal is to move to a 100-% SaaS-based order management system. So when Mom gets her flowers on time this Mothers Day, you can thank the cloud.