Evidently discarding any reservations he might have had about mobile becoming the dominant computing platform, Benedict Evans, Andreesen Horwitz venture capital analyst and blogger, says mobile is no longer in the process of eating the world, but that "mobile ate the world."
Evans made the statement during his yearly mobile presentation, which he published at the end of March. Over Memorial Day weekend, I read his presentation, which has become a high-tech industry touchstone, and summarized the tall tent poles of this 76-slide tome for those short on time. 
1. Mobile is undeniably the dominant platform
PC shipments haven't recovered and shipments are fading, while mobile continues its ascent.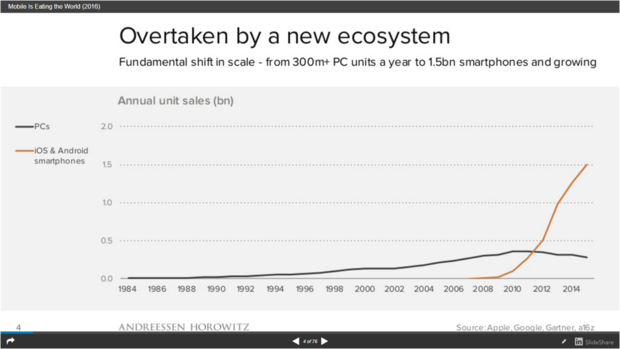 2. Mobile has arrived, but it still has a long and bright future
In a world with 8 billion people, there will be 5 billion smartphones by 2020. It is the first tech product to be bought every two or three years by everyone on the planet. Nine years after the iPhone was introduced, the role of the smartphone in the computing ecosystem hasn't plateaued when one considers the PC ecosystem's central role lasted almost 30 years.
3. Smartphone affordability will bring the mobile internet to everyone
Almost everyone on the planet can afford a smartphones and mobile data services. The entry-level price of $50 for Android phones puts smartphones within almost everyone's budget. Further, the cost of mobile data has continued to decline year over year. Computer ownership has progressed from every corporation owning one, to every home having one, to everyone having one in their pocket
4. Mobile isn't a screen size; it is an ecosystem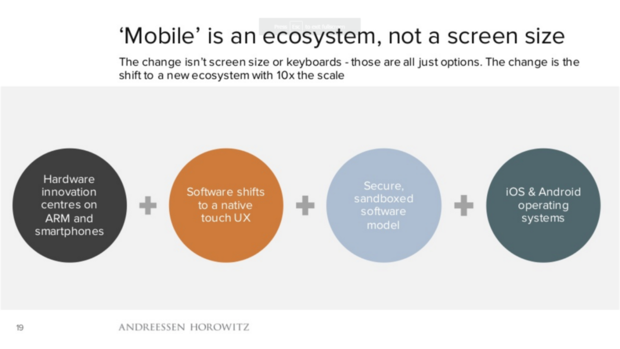 5. Tablets are eating PCs and laptops
The most lackluster segment of the mobile ecosystem, the tablet, accounts for more unit shipments than PCs and laptops. The detachable keyboard tablet category will accelerate the tablet's lead.
6. Mobile components are inventing new product categories
The enormous scale and diversity of off-the-shelf, robust, smartphone components are fueling emerging technologies: tablets, Internet of Things, satellites, wearables, connected cars, connected homes and virtual reality. New game-changing products built with these components are less an engineering challenge than a product vision and a route to market. Business failure will more often fall at the feet of product designers and marketers because the off-the-shelf smartphone components have greatly reduced the risk in building to a specification.
7. Cars and car-ownership models have started to change
Cities will reach an equilibrium that includes fewer cars divided between electric and internal combustion vehicles and between driver-controlled and autonomous vehicles. Electronic ownership models will divide between purchase and on-demand services. Less congestion, lower emissions, fewer accidents and more open space from fewer parking spaces will result in fewer cars owned and more on-demand electric vehicles. One day your phone will summon an autonomous electric vehicle when it senses you are about to leave your current location for a location that is farther away than you want to walk. 
8. Mobile is taking over the living room
The way people consume television is changing. The BBC reports that video requests from tablet and smartphone viewers outnumber all other TV platforms. Mobile TV doesn't have the variety of programming that the networks have, such as reality TV, sports and news, but they will soon. Television broadcasters are on the verge of disruption.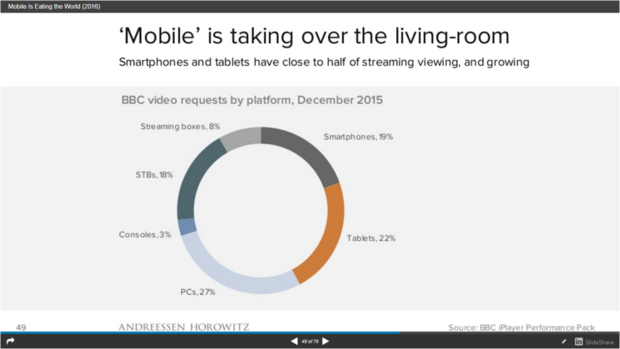 9. Mobile is the internet
Ben's point about the relationship of mobile and the internet can't be distilled, so a direct quote is in order: "Mobile is not a subset of the internet anymore. Mobile becomes the internet—the main way that most people go online. Saying `mobile internet' = `saying color TV'."
10. Android is undergoing a Cambrian explosion
The Android OS will evolve, replicate and grow quickly in new product categories with new app ecosystems, wearables, smart devices such as the Amazon Echo, TVs and detachable keyboard tablets.
11. New models for content and its distribution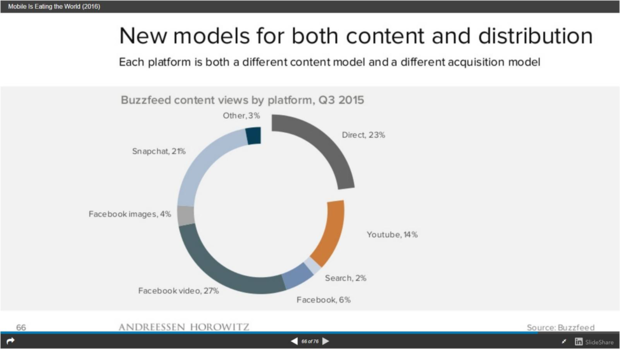 12. Companies are paying Facebook to reach their customers with mobile advertising
Most companies are failing to acquire mobile traffic because they haven't built a mobile app that users want on their phones' home screens. The interim solution is to give Facebook $13 billion in mobile ads for a secondary or tertiary relationship with their customers.
Mobile, the cloud and artificial intelligence will converge and will sustain mobile growth for the foreseeable future.