While new iOS 10 features like improved Maps, Siri integration and Photos were expected during Apple's Worldwide Developers Conference last week, the company stunned developers by leaving the kernel unencrypted in the preview edition of its new iPhone and iPad software.
MIT Technology Review first reported on this revelation, discovered by security researchers and iOS developers, who were left wondering whether Apple did this on purpose or goofed up big time.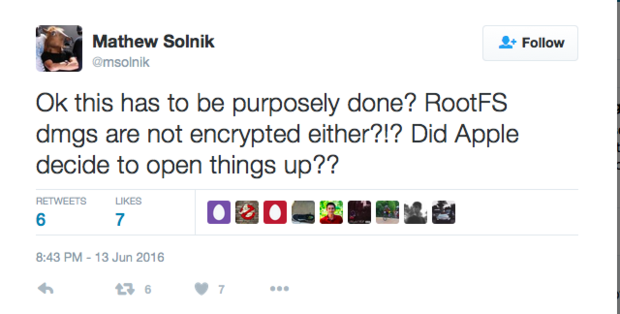 Apple, which predictably declined to comment for Technology Review, has always encrypted the kernel at the heart of its software up until this preview was released.
UPDATE 6/23/16: Apple confirmed to TechCrunch that it indeed left the kernel unencrypted on purpose ("The kernel cache doesn't contain any user info, and by unencrypting it we're able to optimize the operating system's performance without compromising security," an Apple spokesperson told TechCrunch.)
Most seem to think Apple left the kernel unencrypted intentionally in its iOS preview code, perhaps as a strategic change in the wake of FBI efforts to get Apple to open up its code on an iPhone used by one of the San Bernardino mass shooters last year. The idea being: An exposed kernel might give bad actors insights into how to circumvent iOS security, but would also give more altruistic sorts a shot at helping Apple tighten up the iPad and iPhone software.
During WWDC, Apple SVP of Software Engineering Craig Federighi dubbed iOS 10 "as our biggest release ever," and Apple emphasized the security and privacy aspects of the software as being fundamental to its design. "iMessage, FaceTime and HomeKit use end-to-end encryption to protect your data by making it unreadable by Apple and others," the company stated.
While Apple made the developer preview available on June 13, the public will have to wait until July to have at it. The software is slated for general availability in the fall.