In January 2014, Google sold Motorola Mobility to Lenovo. Imagine Google CEO Sundar Pichai now telling the Alphabet board that after buying and making Motorola into one of the best mobile device makers in the world, selling it was a mistake and the company should invest billions to recreate it. It would be like GE starting a TV network after it sold NBC to Comcast or HPE starting a PC division after it spun off its PC business.
So, what is Google doing?
The Motorola turnaround is a good place to start explaining what Google is doing.
Google recruited Regina Dugan, former chief of the Defense Advanced Research Projects Agency (DARPA), into Motorola during the turnaround. The 50-year-old government agency is charged with preventing strategic surprises from—and creating strategic surprises for—America's adversaries. DARPA earned a reputation for producing high-impact results quickly. A few of DARPA's many innovations include the internet, global positioning satellites (GPS), drones and micro-electro-mechanical systems (MEMS).
Dugan brought her DARPA playbook and experience producing prototypes such as missiles with MACH 20 speed that could reach any target in the world in under an hour. She transferred this know-how first to Motorola and then to Google when she took over the Advanced Technology and Projects (ATAP) group that produced prototypes such as the ARA modular phone and Project Tango, the machine vision system that gives computers human-like perception of the 3D world.
Project Tango was released as a developer edition. The hardware was iterated twice to improve its functionality and performance and shake out its flaws. When the concept was proven, Google licensed the technology to companies, including Lenovo and Intel.
Google's virtual reality (VR) chief, Clay Bavor, announced the Daydream VR platform at Google I/O last month. Daydream is an untethered design, in contrast to Oculus and HTC Vive VR systems that are tethered to a high-performance PC that can render VR experiences and send pixels to headset displays with very low latency and high frame rates. Like the Samsung Gear VR, Daydream-ready phones built to Google's specification will be inserted into a headset. That means for users to have a high-quality VR Daydream experience, all the processing that takes place on the tethered PC now must take place on a less-powerful mobile phone.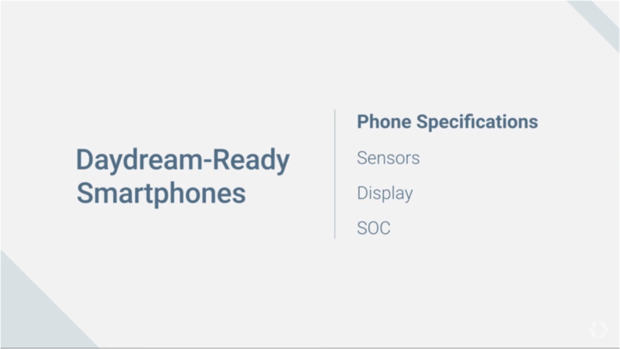 Bevor explained that the Google VR team worked with hardware component makers to develop the Daydream-ready specification. The goal is to reduce the motion to photon latency, allow the phone to track the headset wearer's head movement and change what is rendered on the screen in less than 20ms to match the wearers' head position. To achieve this low level of latency, the hardware components that will go into making a Daydream-ready phone will have been curated by Google and its partners' experts.
The next version of Android, Android N has been optimized for mobile VR hardware and will include VR mode, a streamlined software development kit optimized for building VR apps. Google changed the Android build system to make it easier for developers to write highly optimized modules using fast, low-level programming languages C and C++ that run VR apps with very low latency. Google also added Vulcan, a low-level and fast open-source graphics library that lets developers squeeze more rendering from every cycle.
Google will announce its new Nexus product line at its annually expected September event. At least one phone will be Daydream-ready. Google has partnered with Samsung, HTC, LG, Xiaomi, Huawei, ZTE, Asus and Alcatel to produce Daydream-ready phones.
Rumor or proof of concept?
Google's curation and interaction with suppliers and the manufacturing supply chains may have been a false positive that inspired the Telegraph story predicting a Google-produced smartphone, based on the cited "sources familiar with the discussions." Or Google may be building a prototype that performs faster, between the first Daydream-ready phones and the tethered Oculus and HTC Vive headset, as a proof of concept. That next step up in performance and capability is possible, like the Tango once was a proof of concept.
Google doesn't want to start a war with Apple, as the Telegraph story implied. If it did, huge investments would be required to create manufacturing and supply-chain operations. Google also wouldn't have sold Motorola. Instead, the company would have invested in expanding the former division's scale and reach.
Google is an advertising and internet platform company. Despite Google's DARPA-like agility, it does not want to compete head on with Apple in its core competency with a copycat premium phone.
The VR and augmented reality (AR) category, which is predicted to explode, will be vital to Google's future. The company will profit from its share of VR and AR apps sold through its Google Play Store and from advertising in 360-degree video content.