I've tested a few dash cams in the last year (for example the Swann DriveEye and the Papago GOSAFE 520) and I've been impressed. Even if you're not planning to capture the next meteor screaming over your town and shattering windows for miles around, it's a great hedge against fraudulent insurance claims against you and terrific documentation for any road travel incidents you might have. But as with all technology, while there's a lot of value in point application, when the point data is aggregated and treated as Big Data, amazing opportunities and insights emerge … which is exactly what comes from turning your iPhone into an ultra-sophisticated dash cam with the Nexar app.
Nexar records video from your iPhone's cameras and integrates that with data from the phone's sensors to capture license plates, other cars' behavior, sudden braking, and collisions. But wait! There's more! This data is then aggregated with the data from other drivers, scanned by computer vision software, assessed by AI algorithms, and out the other end of this sausage maker comes information on which drivers run red lights, who exceeds the speed limit, and, in the near future, if you're running Nexar, it'll warn you when you're near a bad driver.
The developers are Israeli and they beta tested their app in Tel Aviv, a city they describe as "The City That Never Stops (on Red)" in August 2015. The test used 20 drivers and:
After watching and analyzing 60,000 kilometers of driving, 3,000 total hours, and 11 hours of "incident" footage, we were blown away by the results. With those 20 drivers and only a month's worth of time, our alpha testers reported hundreds of "incidents" – dangerous traffic violations. Concretely, we recorded more than 43 drivers of all types – public buses, taxis, scooters, and private cars – blatantly running red lights, 114 cars dangerously cutting into lanes, dozens of cars driving recklessly, and even 6 accidents.

Clearly, our roads are a mess – an undocumented mess.

Until now.
Here's a map of the collected data: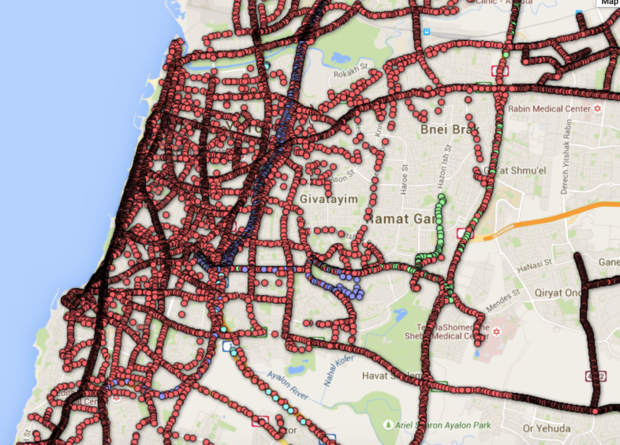 As well as identifying bad drivers, the aggregated and crunched data will identify dangerous intersections and roads, unexpected hazard areas, as well as producing real time, actionable data on accidents and road problems. 
Since then the company has moved to collecting data in SanFrancisco (100,000 miles per week for four months featuring over 800 drivers running red lights). On the Nexar blog they show an accident they captured in the test which illustrates the level of detail involved in reconstructing the event:
Using Nexar, [the driver] had a video of the accident that he could share immediately. But he also had a full and accurate reconstruction of the accident, millisecond by millisecond. In fact, our accident report also included the projected impact on the car, and force exerted on Reggie, so that he could prove exactly what impact the car and him suffered. Think of all of the times you heard of or were involved in disputes concerning an accident. We want to make that a thing of the past.
They continue:
But we're not stopping there. As we want to prevent accidents in the first place, we will soon be introducing smart warnings, in an effort to reduce the probability of accidents. We want to warn you before you get into dangerous intersections. We want to alert you when approaching potholes, especially by night, or in the rain. We want to make you aware of a car braking hard five cars ahead of you, so that you can change lane with enough time, and avoid a potential chain accident. We want to warn you when you drive next to a car that has been seen driving recklessly in the past.
A fantastic aspect of Nexar's technology is that it also provides very accurate geolocation. According to an IEEE Spectrum article:
The accelerometer senses potholes and speed bumps, while the magnetometer (used for compass settings) detects when the car is [traveling] under power lines. "We use these, refreshed fifty times a second, to crowdsource features of the road and pinpoint where you are to within 2 meters," says [Eran Shir, Nexar's co-founder]. A side benefit is that the company has built detailed maps of road surface quality in its pilot cities.
The app is cleverly engineered; when there's an accident or just hard braking, or when you tap on the iPhone display or say "Hey Nexar", Nexar creates an incident that's automatically uploaded and stored in the cloud as a time lapsed video that's only available to you.
You can also use a two-finger tap on the screen to change to recording the backwards-facing view and capture both video and audio from inside the vehicle. The latest version also integrates with the very popular driving app, Waze, and an Android version is promised.
Apart from its value to consumers, Nexar will also potentially provide the government and law enforcement with an incredibly cost-effective source of Homeland Security intelligence and crime-fighting data. On the negative side, there are potentially serious privacy and legal issues involved with tracking cars by their plates and making their owners' (bad) driving habits public.
This is an outstanding idea that could have a serious impact on driver behavior and accountability. I doubt whether Nexar will remain the only player in the road intelligence market in the next few years but they're certainly setting a high bar. 
Comments? Thoughts? Send me your driving data via email or comment below then follow me on Twitter and Facebook.