The World Food Program warns that droughts, fires and storms could endanger food security for billions of people. To adapt, farmers need current, local and reliable information to help them choose the seeds and planting schedules best suited to local weather conditions.
Traditional weather sensors, however, are often too expensive and difficult to operate in large parts of the developing world. This results in scarce farming and weather data for much of the globe.
Farmers need hyperlocal information—both timely and local. With IoT and new connectivity options, affordable sensors that are easy to operate can collect the vital information farmers require.
The Pulsepod
Arable CEO Adam Wolf, who has a master's degree in agronomy from the University of California, Davis and a Ph.D. in biology from Stanford, is an expert in sustainable agriculture. Field research led him to conclude that linking plant growth, soil and local weather data results in better decisions with less risk. The bottleneck was data collection. How could a system be designed that gives more granular information than rogue weather forecasts and satellite data?
And so the Arable Pulsepod was born. An Internet of Things (IoT) device that could revolutionize farming, the Arable Pulsepod is a low-cost, self-powered crop-monitoring solution. Its sleek, functional design results from the collaboration between Arable and Bould Design, whose founder, Fred Bould, designed the Nest thermostat.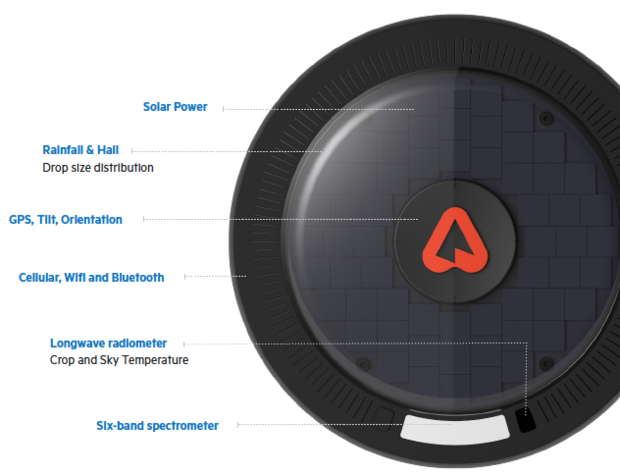 The Pulsepod is a self-contained solution that's solar powered and can be installed easily. It has built-in GPS and advanced sensors to measure 40 observation streams related to plant growth, soil conditions and weather conditions. It supports cellular (2G/3G), Wi-Fi and Bluetooth for connectivity. The data collected can be fed through an API to data analysis platforms such as Granular or Farmer's Business Network. The Pulsepod works practically anywhere in the world thanks to pre-provisioned SIM cards from Hologram.
Advanced sensors
The Pulsepod contains the following advanced sensors:
Acoustic disdrometer: How much rain is falling?
It measures raindrop size distributions continuously and automatically by transforming the momentum of an impacting drop into an electric pulse whose amplitude is a function of the drop diameter. The amount of rain can be calculated by analyzing the number and strength of pulses.
Net radiometer: How much sunlight are plants getting?
This measures shortwave radiation (from the sun) and long wave radiation (from the Earth and sky). The sum of shortwave and longwave radiation gives the "net radiation," or the amount of energy hitting the plant.
Spectrometer: How well are the plants growing?
This measures crop growth, water and chlorophyll content using narrowband reflectance. As the sun shines down, it reflects off the ground. The difference between the two is the energy absorbed by the plant's leaves, water and pigments.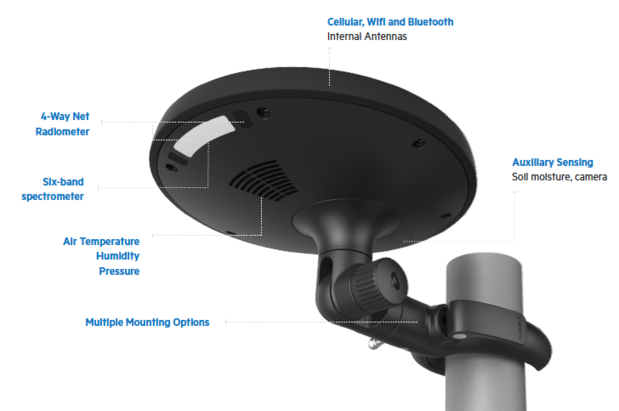 Global coverage
Providing farmers with the information they need to make better-informed decisions requires a broad global ecosystem of private, public and nonprofit organizations. Two of the largest members of this ecosystem are:
The Global System Mobile Association (GSMA)
Over 800 mobile operators and 300 firms comprise this group. It's GSMA Ecosystem Accelerator bridges the gap between operators and innovators to offer mobile solutions to people and places for the greatest socioeconomic impact.
USAID's Feed The Future Program
This strategic alliance between the U.S. government and the private sector works to advance the impact of sustainable development. It works with USAID missions around the world to promote agricultural technologies for smallholder farmers.
Takeaway
"We're at the very beginning of a major transition in how agriculture uses data," Wolf said. "Thirty years ago, it was all about how to grow more crops with less inputs, but now we're in an era where we're empowering people to manage complex natural resources with precision. What farms need are facts on the ground to make better decisions in the face of dynamic risk. Imagine if you ran a restaurant and didn't know how many chefs would show up for work—you wouldn't know how to plan or manage effectively. We believe Pulsepod has the potential to transform agriculture through certainty."
Farming is never a sure thing, but IoT-powered data helps farmers improve their odds.
This article is published as part of the IDG Contributor Network. Want to Join?