Facebook's Aquila Unmanned Aircraft research project, which uses solar-powered drones to fill the internet access void in unconnected regions of the world, could be overtaken by the company's latest development.  
Facebook announced today that it will apply its open source influence and expertise to a new open-source, mobile, voice and data cellular base station called OpenCellular—a cellular base station in a box. The first implementations are expected to be available this summer.
Facebook's move represents breathtaking potential. Another company, Range Networks, has proven the feasibility of the model. Now, with Facebook's extensive resources, this feasibility could become a reality, connecting the 4 billion not-yet-internet-connected people and the 10 percent of the world's population who lack simple cellular voice and SMS connections.
If Facebook succeeds, a low-cost, easy-to-setup, mobile voice and data platform will be available from multiple vendors that will extend connectivity to unserved and underserved populations. It's all part of Facebook's plan to connect every person in the world with a mobile phone. 
The OpenCellular Platform
OpenCellular is a voice and data cellular network in a box that Facebook says can connect mobile users with Wi-Fi, 2G, 3G, 4G and LTE. 
The OpenCellular system has two components: the general-purpose and base-band computing (GBC) module and the radio frequency (RF) module.
The GBC provides network synchronization and call and session control, setting up and taking down voice and data sessions. Presumably, it connects to back-haul terrestrial, line-of-site and satellite networks, although Facebook's blog post did not mention how. Power over Ethernet (PoE), solar, DC current, and internal or external batteries will supply power. Sensors monitor temperature, voltage and current. The GBC supports remote monitoring and operation.
OpenCellular gets much more interesting when the GBC is connected to the RF module. Within the RF module, network protocols such as 3G or LTE are configured with either a system on a chip (SoC) or software-defined radio (SDR) that will support open source and commercial cellular stacks. The SDR will future-proof the base station against the rapid evolution of LTE 5G and simplify integration into new types of radio networks with updatable radios.
The RF module depicted below can attach to many different structures, poles and towers, and it connects to radio technology-specific antennas. Facebook says the OpenCellular base station has been designed to simplify installation and deployment, reducing the need for technical expertise.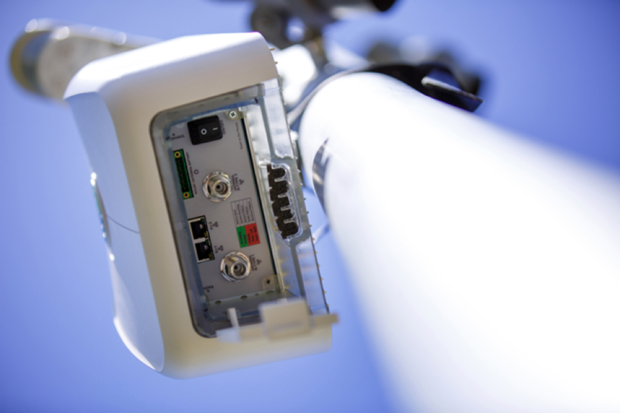 The hardware designs will be open sourced, too. Local manufacturers will be able to take the designs and build OpenCellular base stations customized for local markets with the open-source software and firmware installed.
Facebook indicated that the OpenCellular project will have economic characteristics and technical features to support deployments that can serve even a small community of a few hundred people in urban and rural areas.
OpenCellular could be a game changer
Range Networks has already proven the feasibility of an open-sourced hardware and software cellular base station. But a small company like Range Networks has trouble employing enough engineering and open source development resources to make an impact with global telecom carriers, and it faces challenges integrating its base station with the complex and often-proprietary standards of multi-billion-dollar telecom manufacturers such as Ericsson, Nokia and Huawei.
Facebook is in a better position to solve this integration problem. It has proved to be an expert at creating open source software development communities in every category—from system software for data centers, to databases, to development tools. It has also applied open-source concepts to open sourcing data center hardware. The OpenCompute Project (OCP), launched five years ago, has changed how data center hardware is designed and procured, attracting many companies to OCP, including Google and Goldman Sachs.
Facebook could simply use its own, expanding network resources to solve the network integration problems. The company could buy and procure gateways that support the myriad of signaling systems needed to interconnect with the world's telecom carriers built with equipment from proprietary telecom manufacturers.