Walking a mile in another man's smartphone is the best way to review a smartphone. During the past 10 days, I walked the shoes of the ZTE Zmax Pro user. It was a challenging review to prepare and write because it is a great phone (priced at $99 with ZTE and Metro PCS subsidies). But how do I explain it? What follows are case study references for evaluating budget smartphones.
Flagship, top tier $600 - $700 phones are easy to review. HTC, Samsung and Motorola rarely miss their mark. Every vendor in the supply chain cooperates with the phone maker—from System on a Chip (SoC) makers to plastic extrusion suppliers—to push past the specs and the build quality of the last, most recently announced flagship smartphone.
In the budget category, hardware designers have to curate the component choices and build the best possible phone at the targeted price.  
First impressions
The Zmax Pro looks and feels like a Motorola Nexus 6 introduced in October 2014 at $650. It's a big phone with a 6-in. display. Even on the most aggressive slope of Moore's Law, the trip from $650 to $99 is impossible without designers making component trade-offs while still pleasing users with the Zmax Pro's performance.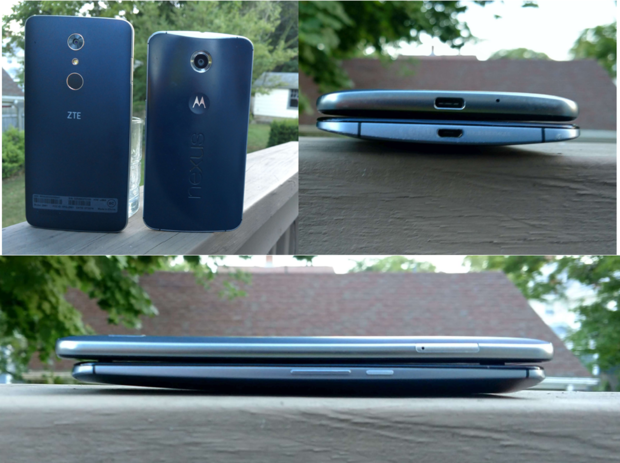 Hands-on experience
During the 10 days living with the Zmax Pro, it performed really well. Phone calls, search, navigation, Facebook, Gmail, Twitter, WhatsApp, Signal and WeChat performed no differently than more-expensive phones and gave me nothing to complain about. The Zmax Pro's non-removable 3400 mAh battery powered the phone for longer than a day. And Qualcomm Quick Charge 3.0 renewed a full charge in well under an hour. The fingerprint sensor with a long password and Android (6.01) Marshmallow strong encryption secured the phone.
Benchmarks
Benchmarks don't always tell the truth because some of the results are hard to compare. Complicating the comparison, standard benchmarking tools such as Antutu and 3DMARK don't support all new phones, including the Zmax Pro. I chose Qualcomm's Vellamo Metal benchmark because it runs on almost every Android device. The Metal benchmark is a general-purpose benchmark that tests CPU performance, memory bandwidth, read-write speeds and storage speeds.
Popular flagship phones introduced two years ago, all with the Qualcomm Snapdragon 801 SoC, were picked as the point of benchmark reference to measure how much this bargain phone powered by a Snapdragon 617 benefited from the affects of Moore's Law. 
Benchmark reference phones for comparison to the Zmax Pro
HTC One M8
Moto X 2nd Edition
Samsung Galaxy S5
Sony Xperia Z3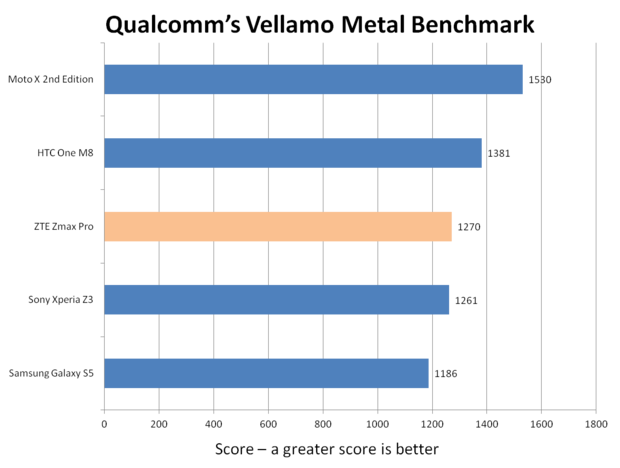 The Zmax Pro performed well compared to the flagship phones of yesteryear. Notable features:
Smooth, non-janky (janky is a developer term for UI experiences such as continuous, smooth scrolling and fast context switching) performance.
Long-lasting and fast-charging battery
Security: Not all budget phones have a fingerprint sensor and run Android (6.01) Marshmallow, making the Zmax Pro a smart choice
Responsive and colorful 6-in. IPS LCD capacitive touchscreen that has a 1080 x 1920 pixels (~367 ppi pixel density) resolution
Design trade-offs to reach $99
The 3DMARK gaming benchmark hinted at one difference: The Graphic Processor Unit (GPU) 3DMARK worked on the Zmax Pro, but this test needs to be qualified because the Zmax Pro is too new for 3DMARK to produce accurate data. Digging into the data, the Zmax Pro frame rates rendered by the Qualcomm Adreno 405 were slower than those rendered by the flagship phones' Adreno 330. Games, virtual reality (VR) and augmented reality (AR) performance will run slower.


The 13-megapixel camera performs well, but it doesn't match the cameras on the flagship phones, such as the Galaxy S5, and their ability to take low-light and large landscape photos.


The 802.11 a/b/g/n Wi-Fi supports the 2.5 GHz band, but it doesn't support the 5.0 band that is often faster within close proximity to the Wi-Fi router because of less contention in urban areas where many homes and apartments have mainly older 2.5 GHz routers.
Conclusion
The Zmax Pro is a good choice for an existing MetroPCS customer or a consumer who wants become a new MetroPCS subscriber. The large phablet screen design is relevant for consumers who will use their phones as the primary internet access device. The Zmax Prop is a value proposition to attract new customers to MetroPCS. The $99 price is subsidized with a promotional discount and rebate.