Just in time for the biggest election in the history of democracy, a three-judge federal appeals court has told the state of New Hampshire that it cannot prevent voters from taking a selfie with their completed ballot.
News of the decision comes via a tweet from executive editor of the Manchester Union-Leader: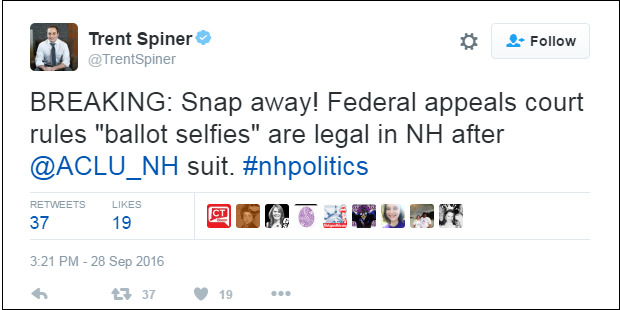 In August 2015, a different judge had overturned New Hampshire's ban on ballot selfies, but the elected officials of the "Live Free or Die" state inexplicably decided to appeal that decision to a higher court. Their argument is that ballot selfies encourage vote buying by allowing the selfie-taker to provide evidence that he or she voted as the buyer instructed.
[MORE: Selfie fits modern politics like a handshake.]
That nonsensical argument didn't go over well when presented earlier this month to the First Circuit of the U.S. Court of Appeals in Boston, according to Reuters.
Today's ruling should put the ballot selfie issue to rest once and for all, unless New Hampshire wants to try the shorthanded United States Supreme Court, which no doubt has more pressing matters on its docket.