FAST LOOK: Windows Phone 8.1
First major update to Microsoft mobile OS since fall of 2012; includes enterprise IT features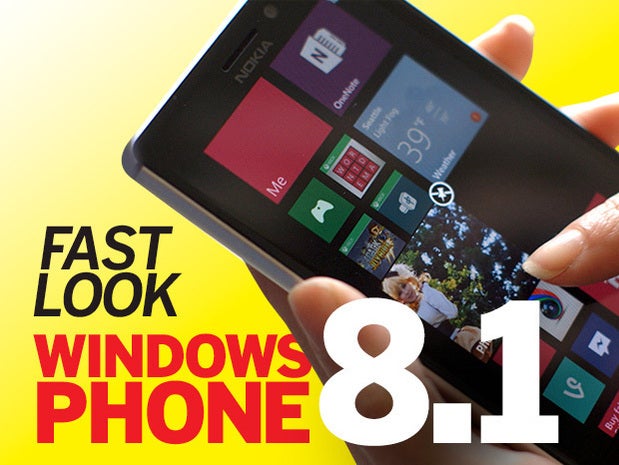 Introducing Windows Phone 8.1
Microsoft on Wednesday unveiled Windows Phone 8.1, the first major update to its mobile OS since the fall of 2012. There's a Siri-like personal assistant, centralized notifications, an array of new customization options, a redesigned keyboard for fast text entry, and enterprise-specific features such as VPN support.
More details at the Microsoft Windows Phone Blog.
Cortana, the voice assistant
Cortana is named after a popular character in the game Halo, combining artificial intelligence with personal assistance for the character of Master Chief. Tap a Live Tile or press the search button to reach Cortana Home. Cortana is beta software integrated with the Bing search engine. You can interact with Cortana by natural language voice, or text. Cortana tracks a wide range of your personal preferences and information, which are stored in in separate "notebooks."
More Cortana
You can tell or instruct Cortana, through configuration settings, about some of your preferences, such as your "quiet hours" when you don't want to be disturbed by notifications or interruptions. But because Cortana also knows your "inner circle," she can pass along incoming calls or messages from your spouse, for example, even during your quiet time. Cortana can launch and work with and through your applications. It can launch and interact with apps and cloud services like Facebook or Hulu Plus; find the nearest top-rated Mexican restaurant and call it so you can make a reservation.
Action Center, for notifications
The 8.1 release adds a central place for all notifications, called "Action Center." Emails, text messages, other notifications are now in one location for quick access. Also present: quick access to basic phone settings: Wi-Fi, Flight Mode, Bluetooth, and Rotation Lock; and info about dual-SIM cards if your phone has them. To access the Center, you swipe down from the top of the screen, even if the phone is locked.
Startscreen customizations
Last year, Windows Phone gained a third column for larger-screened phones, to show more Live Tiles and information. But the change was so popular, it's now available for all sizes with the 8.1 release. You can also now select a favorite photo or other style as the background to your Start screen: the tiles become transparent to show the image behind it.
Improved Skype app
The new Skype app is a lot faster, and it's integrated with the phone's dialer. If you're on a Skype voice call, you can quickly change it to a Skype video call with one tap. The new Cortana assistant can set up your Skype calls.
Outlook-like Calendar
Windows Phone Calendar now includes a "week" view; pan to the right to get to the next day, week or month. It also more closely resembles Outlook on your Windows PC. That may or may not seem like an improvement to some people.
People Hub, Email and Accounts
The People Hub in 8.1 has higher fidelity feeds for your social network content, and now connects directly to your installed third-party social networking apps, giving you access to the full range of app functions. Email now supports S/MIME secure email; different account types, such as Apple's iCloud, are now supported.
Data Sense, tracking usage
Data Sense tracks your cellular data use monthly and gives you details on how much each app is using. As you near your limit, Data Sense "aggressively" shifts from cellular to Wi-Fi connections when available. There's also a "high savings" mode that triggers image compression.
Wi-Fi Sense, for smarter Wi-Fi use
This feature will automatically connect you to free Wi-Fi hotspots. It can be configured to let selected contacts auto-connect to your home Wi-Fi when they visit you. If you turn off Wi-Fi from within Sense, Cortana can automatically turn it back on when you reach your favorite coffee shop or library hotspot as listed in Cortana's notebooks.
Storage Sense, for memory cards
Storage Sense lets you manage stuff you've stored on an SD memory card in your phone. You can use it also to move apps, music, photos from the phone's internal memory to the card.
Improved Word Flow keyboard
Word Flow was introduced in Windows Phone 8. The new version is being described, though not by Microsoft, as a "Swype-style" keyboard. Instead of tapping, you can slide a finger over the keys and the software figures out what you're typing and enters it automatically. Microsoft calls this "shape writing" and says it beat out Swype on Samsung Galaxy S4 to become the fastest smartphone text entry keyboard, in a test by the folks at Guinness World Records.
Enterprise features
Microsoft added a battery of enterprise-specific features in Windows Phone 8.1: support for VPNs; S/MIMIE for encrypted and signed emails; expanded mobile device management; remote Wi-Fi configuration and policy enforcement; RemoteLock which now lets IT reset a forgotten PIN without having to reset the entire phone; broader support for certificates; and over 20 new mobile device management features accessed via third party MDM applications.
Next Up: Check out these related slideshows