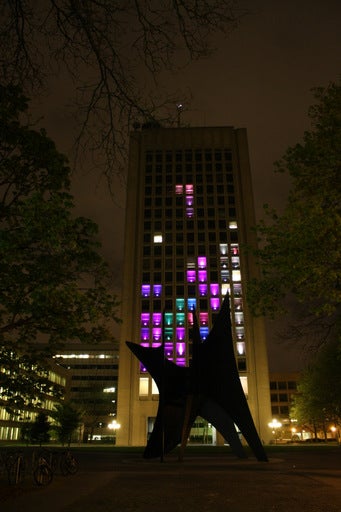 (Photo: Erik Nygren, MIT)
The Boston Red Sox's 100th Fenway Park anniversary game vs. the New York Yankees might have been the toughest ticket in town on Friday, but it wasn't the only big game in town.
MIT students kicked off the weekend by exposing a colorful 21-story hack of the Green Building (Earth, Atmospheric and Planetary Science Dept.) on campus, which was converted into a giant Tetris game via various colored lights in the building's windows. The MIT Gallery of Hacks website reported that "a console allowed players to move, rotate, and drop blocks" and wrote that "MIT hackers have long considered 'Tetris on the Green Building' to be the Holy Grail of hacks."
A tough crowd of YouTube commenters were quick to point out that Brown University students accomplished a similar hack in 2000, albeit with administration permission and on a 10-story edifice. Others said it needed accompanying Tetris music.
I'm just wondering what the MIT students were so busy with on April 1 not to have done this then...
Bob Brown tracks network research in his Alpha Doggs blog and Facebook page, as well onTwitter and Google +.