I think back to 20 years ago and what I would have thought if someone told me I could get 5 Terabytes of data storage for about a hundred bucks a month. That was more storage than most countries had, I think. Heck, I don't even know what I would have done with 5 TBs. After speaking to Daniel Puterman of Pogoplug about their new offering, I felt a little bit like Doc and Marty in "Back to the Future." But that is just what the new offering from Pogoplug, powered by Amazon's Glacier, is. More than just pure storage though, it is secure, offers ultra-fast restore and has great sharing options thanks to Pogoplug's "personal cloud" family of appliances and software.
I have been a big fan of Pogoplug's personal cloud ever since I set up one of their little pink trimmed boxes in my house a few years back. I hooked it up to my wireless router, plugged in a WD 500 GB USB drive and have been backing up everything we want from every computer in the house ever since.
What was nice was that Pogoplug had apps that allowed you to access that data from your iPhone, iPad, Android device or any browser anywhere. It really became your own personal cloud. On top of that, more than just storage, it also had some pretty nifty sharing options that allowed me to give access to pictures or audio files to whomever I wanted in a secure manner. Yes, having my personal cloud has proven really useful.
Over time the Pogoplug folks have upgraded devices they offer. Beefier, black and still simple, the newer Pogoplug's were a big upgrade over the first gen models like I have. But then Pogoplug went even one better. If you didn't have or want the appliance, you could use a software only version and store your data in the Pogoplug cloud for a mere pittance.
All the while the Pogoplug service I felt was aimed at individuals and consumers. With the new Glacier hybrid model, Pogoplug is targeting families and smaller companies. They actually have two families of offerings one aimed at families and one at business, called Teams.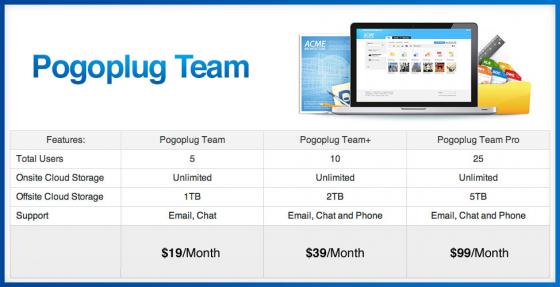 As you can see the prices for this service are ridiculous. If it was just a normal cloud based back up service, I would say it is competitive, but when you realize what else you get with Pogoplus, it is downright disruptive.
When you sign up for the plans you get a free on premises device. With this device on your local network, back up and more importantly restore is done at Ethernet speeds, not broadband. So instead of restoring in hours or days, it can be done very quickly. You can plug in cheap USB drives to your local Pogoplug to get up to 7 TB of addressable storage locally.
You can then pick what you want to back up from your local device to the secure Pogoplug cloud on Amazon's Glacier. This industrial strength cloud solution married to the Pogoplug local device makes for a hybrid cloud model that offers great features at a great price. 
This kind of hybrid model could represent the future of many kinds of IT services. In the meantime I am going to sign the family up, power up my Delorean, set the flux capacitor and head,  "Back to the Future".