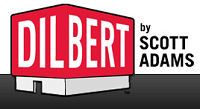 Cloudwashing has become so rampant that even Dilbert's Pointy-Headed Boss has gotten into the game ... and it's not the first time for him, either.
You can see the full strip here, but this is now the conversation begins Sunday between PHB and Dilbert:
PHB: I need you to cloudwash our software.

Dilbert: Cloudwash?

PHB: Move some of its functions onto the Internet. But call the Internet a cloud. ... No one will take us seriously unless we're doing something in the cloud.

Dilbert: Will people take us seriously if we make technology decisions based on jargon?
If you're familiar with the comic strip, you can probably guess as to whether Dilbert's call to reason has any effect on his boss.
And here's a taste of the comments left on the Dilbert site:
"So the boss is good at marketing. He knows the statistics and knows that there is an optimal trade-off between "bull**** and sales. You need a certain (high) amount of bull**** but just enough facts to look professional. If you cannot appeal to all, target the biggest group."
Another reader does more than merely complain, he offers IT professionals a bit of practical advice:
"As IT manager I'm being pestered by management along the lines of the comic today. I've found a partial solution I'd like to share: When a director proposed to move standard Office applications to the cloud, I finally said: 'That's a very good idea. You should be the first to migrate end use nothing else for a week.' That project has now been canceled..."
This isn't the first time that Dilbert's boss has let jargon cloud his thinking, as this strip from January of last year shows.
And while certainly fodder for your tech-savvy comic-strip authors, there is a real risk that rampant cloudwashing could hurt actually hurt cloud adoption, according to Gartner.
Finally, if you haven't seen this video from The Onion, you might enjoy: "HP offers 'that cloud thing everyone is talking about.' "