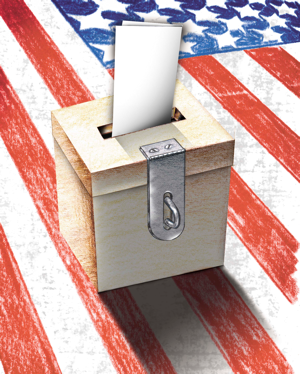 Whether who you voted for won or lost (and I do hope you voted), whether you live in a blue state or a red state, no matter your political beliefs, as Americans I think there is one thing we can all agree on: it is ridiculous that in this day and age people should have to stand on line for four, five or more hours to cast a vote. While the right to vote is something to be cherished, that people have given their lives for, there is just no good reason that people should have to wait in lines like they do in some places to cast their vote in this day and age.
RELATED: Machines alter election votes: Hacking voting machines so easy that Grandma can do it
There is no good reason that we have not come up with a viable online voting technology. The Internet has transformed so many things in our lives. Remember what it was like booking travel, trading stocks, buying books and other goods, communicating with our friends and family all over the world before the net? What about before online banking?
When ecommerce was considered too risky, we came up with ways to make it safe. When online banking had some obvious flaws, we worked on ways to sure it up. Even with the cloud posing security challenges, smart people in the tech industry come up with ways to make it better.
The time has come to make online voting a reality. We need to come up with systems, technologies and processes that will make online voting accurate, easy and secure. I know there are challenges. Until we are 100% sure it works as planned, we probably need a Plan B and Plan C.
As an industry, I know we can do better. I know that if we truly make it a priority, we can come up with a system that will make the idea of waiting for the better part of a day in line to vote as quaint as having to get to the bank by 3 p.m. to cash a check and have some money.
Speaking of cash, maybe that is what is holding us back. Will developing that system provide enough of a return on investment? Frankly, I don't know. But think about all of the money currently spent on the myriad of voting systems, location monitors and voting boards that we spend today. Geesh, think about the $6 billion we spent on advertising for this election. A small portion of that would seem like a decent return.
Even implementing such a system, there will be people who still need to vote in person. Maybe they don't have online access, don't trust computers or whatever. But that will be a small minority that we can accommodate without having so many wait in line for so long.
Think about another factor. Here we are at noon on the day after the election and we are still counting ballots in Florida, Montana and many other states. If we had a national online voting system, we would have near real-time results to release, if we chose.
Yes, I know the idea of online voting fraud scares many. So does voter fraud in today's model scare many. But just as the facts prove that voter fraud today is more of a red herring than anything meaningful, I think we have the technology to make online voter fraud a red herring as well. We can design a system with transparency that will allow monitoring for fraud. We can build a system that maintains the integrity of our voting system.
I also realize that designing the "perfect" online voting system will be hard, very hard. But to bastardize a quote from John F. Kennedy when he set our sights on going to the moon,
"We choose to vote online in this decade and do the other things. Not because they are easy, but because they are hard."
I know the tech industry can make safe, easy, secure online voting a reality if we put our minds to it. Solving problems is part of what makes us great. It is what makes America great. How about it?
Online voting is an idea whose time has come. The tech industry needs to rise to the challenge.