Worldwide mobile data traffic will increase 13X over the next four years due, not surprisingly, to continued strong growth in the number of mobile Internet connections from personal devices and machine-to-machine applications. These findings, from Cisco's most recent Visual Networking Index Global Mobile Data Traffic Forecast, also note that the number of mobile Internet connections will exceed the world's population - estimated to be 7.6 billion in 2017 - in that time.
Mobile data traffic is on an annual run rate of 134 exabytes, the Cisco study states, which is equivalent to 3 trillion YouTube clips, or one video clip daily from each person on earth over one year; 30 trillion images via MMS or Instagram, or 10 images daily from each person on earth for one year; or 134 times all the fixed and mobile IP traffic generated in the year 2000.
[WIFI'S IMPACT: Mobile data growth accelerating worldwide, led by smartphone users]
The incremental amount of traffic being added to the mobile Internet just between 2016 and 2017 is 3.7 exabytes per month, which is more than four times the estimated size of the entire mobile Internet in 2012, Cisco says.
By 2017, there will be 5.2 billion mobile users -- up from 4.3 billion in 2012 - and more than 10 billion mobile devices and connections, up from 7 billion total mobile devices and M2M connections in 2012. Average global mobile network speeds will increase from 0.5Mbps in 2012 to almost 4Mbps in 2017, almost 50% faster per year; and mobile video will represent 66% of global mobile data traffic, up from 51% in 2012.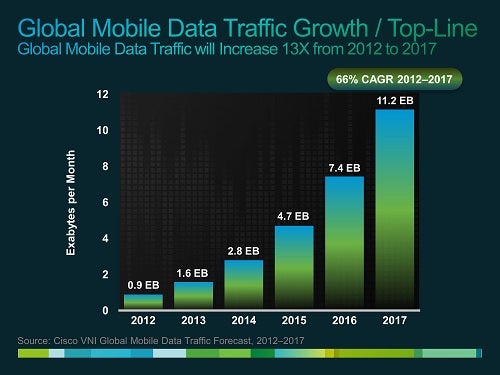 All of this is setting the stage for global mobile data traffic will outpace global fixed data traffic by a factor of three in the 2012-to-2017 time period, the Cisco study finds.
Smartphones, laptops and tablets will drive 93% of global mobile data traffic by 2017. The rest will be from M2M devices like GPS and asset tracking systems, and "basic" handsets. And 41% of all mobile-connected devices or connections will be IPv6-capable in 2017.
The Middle East and Africa will have the highest rate of traffic growth over the five year period: 77% compounded annually. Asia-Pacific will generate the most traffic, followed by North America.
Most of the mobile data traffic will continue to be generated by non-4G devices in 2017, the Cisco study found. Ninety-nine percent of the connections were 2G or 3G in 2012, and they generated 86% of the traffic; that will shift to 90% vs. 10% 4G in 2017, with 4G accounting for 45% of the traffic.
On a compounded annual rate, 4G traffic will more than double each year between 2012 and 2017, the Cisco study found.
More from Cisco Subnet:

Technologies to watch 2013: Cisco products, more maturity for SDNs

Cisco uses LISP to articulate programmability

Cisco makes fourth acquisition in a month

13 events that defined Cisco's 2012

Juniper buys SDN startup for $176M

Cisco, VMware and OpenFlow fragment SDNs

Country's largest 4-year university expels Cisco, saves $100 million

Follow all Cisco Subnet bloggers on Twitter.Jim Duffy on Twitter

Follow