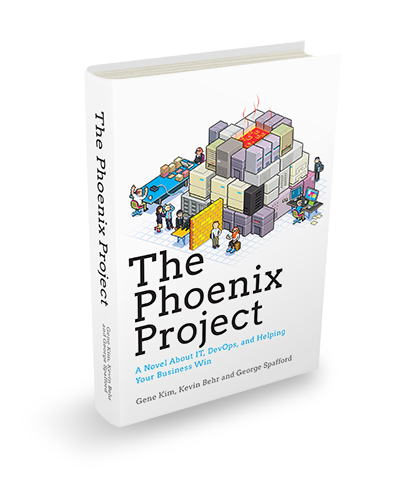 The Phoenix Project is a great illustration of what life in IT departments all over the world is like in today's move at the speed of business environments. There is never enough time or enough resources, too many competing priorities and agendas. How can IT and all of its elements - Development, operations, QA, security, etc. - be successful? The Phoenix Project gives us a blueprint for how it can be done.
The Phoenix Project for me is much like the book "The Goal" by Dr. Eliyahu M. Goldratt. The Goal is one of the most influential management books of all time. My friend Brad Feld suggested the entire executive team at StillSecure read the book back in 2002 or so. I read it and it opened a new way of thinking about how to run a business for me. Dr. Goldratt's novel about a fictional business really hooked me in the first few pages and I finished the book literally in one sitting. Gene Kim is one of the co-authors and a driving force for the Phoenix Project.
I first met Gene Kim about two or three years ago at Black Hat/Bsides/Defcon Las Vegas. I was the sponsorship coordinator for Bsides Las Vegas and Gene were on the board of the national Bsides organization. We met over a glass or two (maybe it was more) of wine and talked for a few hours. I had known Gene was the co-founder and longtime CTO of Tripwire, but was unfamiliar with any of the books he had been working on. He told me about the newest book he was just finishing up, more of a novel about IT and DevOps. The name of the book was "The Phoenix Project" and Gene said I would really enjoy it.
A few months later I was contacted by his assistant that the book manuscript was finished and if I wanted an advance copy to read. They sent me the manuscript, but with my crazy life of reading, writing, reading, and writing, I never had a chance to dig in. Fast forward a year or more and I am hearing more and more about DevOps. I am really starting to understand what it is and how important it can be. I happened across Gene's website where they are selling the book and decided it was high time I really read it. I happened to be going to Boulder for the JumpCloud/Softlayer DevOps conference, so it was as good a time as ever to read it.
Like in The Goal, the Phoenix Project hooked me in the first few pages. A new acting director of IT is immediately confronted with a high-priority project months behind, an IT failure which threatens the company's ability to get payroll checks out on time this week, a CISO upset that the company has taken security seriously enough and conflicting personalities vying for the attention of the corporate board. Everyone is acting in the best interest of the company as they see it, but their visions just don't line up.
The book goes on from there in search of identifying what the real problems are and how best to fix them. Fixing them involves understanding the issues as well as the technologies involved. But even that is not enough until you understand the personalities and motivations. You will have to read the book to get the rest, but I assure you that you will not be sorry.
The Phoenix Project shows how IT can work better by adding automation, completing work in smaller bytes (pun intended) and eliminating bottlenecks in both personnel and technical resources. For many DevOps advocates, the automation and combining IT Ops with development and even security is what DevOps is all about. However, the Phoenix Project also has a message for CIOs, CFOs and CEOs. How do you make sure that your IT department and all of its parts is working towards the businesses goal. That is a powerful message.
I know many executives have heard of DevOps and want to find out more about how it can help them make their organizations better. That should be the real lesson here. DevOps can help you from the top all the way down the stack. 
The Phoenix Project is a book that will make you think and act differently about how IT works together and how IT works within a business. Once you start it is a quick read that you don't want to put down. Like The Goal, the Phoenix Project will become a staple for IT executives and executives in general in the months and years to come. Great job by Gene Kim and his co-authors, Kevin Behr and George Spafford.