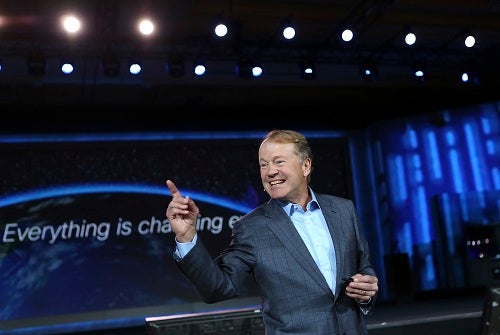 Credit: REUTERS/Robert Galbraith
For a couple of years now, Cisco CEO John Chambers has been proclaiming that Cisco will be the world's No. 1 IT vendor. This proclamation has been met with mixed reactions as the IT community has many large, incumbent vendors already. Over the years, though, Cisco has proven to be the master of market transitions by moving into markets with large incumbents and quickly grabbing a leadership position. Voice and servers are two examples where many thought Cisco had no shot, and now the company stands as the dominant provider in both.
RELATED: Cisco's 10 most opportunistic acquisitions
It's my belief that significant market share change only happens at moments of market transition, and we're currently smack in the middle of a transition now. Computing is moving out of the data center and out to the cloud. Many companies are building private clouds, but even those organizations will likely look to augment their private clouds with some public cloud services. This is Cisco's real opportunity, as traditional computing is server-centric but cloud computing is network-centric. The network is the cloud enabler, and who better to try and catch this transition than the world's No. 1 network vendor?
Today in Las Vegas, at its annual Partner Summit, Cisco announced its plans to drop more than $1 billion to expand its cloud business over the next two years. Cisco's vision is to build a "Global Intercloud" - a world of interconnected, interoperable clouds. This internet of clouds can bring better analytics, increased security, and unprecedented scale to the cloud. Metcalf's Law states that the value of a network is proportional to the square of the number of nodes on that network. There are many cloud nodes today, but none are connected. By building a global footprint of connected clouds, the Global Intercloud will create significantly more value for Cisco, its reseller base, and all of the customers of these services. The more service providers that become Intercloud partners, the higher the value for all. In Cisco's press release, the company listed the following Intercloud partners:
Telstra – Australia-based service provider
Allstream – Canada-based communications provider
Canopy – European cloud company
Ingram Micro Inc – Technology distributor
Logicalis Group – Managed service provider
OnX Managed Services – Enterprise data center IT solution provider 
SunGard Availability Services – Business continuity specialist
Wipro – Global IT consulting firm
The breadth of the different types of service providers shows that the cloud isn't just for network operators, as the list also includes systems integrators, distributors, and other types of Cisco partners. The idea is to open the cloud up to the entire Cisco reseller base, creating a "rising tide" for all.
The Intercloud services will be a mix of new services and existing cloud services. In the press release, Cisco announced the following cloud services:
PaaS/IaaS – Virtual compute, storage, and networking 
SAP HANA as-a-Service – Business analytics platform
Collaboration – Cisco WebEx collaboration suite
Security – Cisco Scansafe managed threat defense
Network Infrastructure Management – Cloud managed through Meraki
Virtual Desktop-as-a-Service - Desktop virtualization solutions from Cisco, VMware and Citrix
Partner-branded Cisco Hosted Collaboration Services (HCS)
Cisco Videoscape Cloud DVR – Scalable cloud resources for content ingest, recording and playout
Cisco Virtualized Mobile Internet – a premium data delivery service
Virtualized Managed Services - virtualized service functions for faster time-to-market, using pay-as-you-go
Remote Management Services (RMS)
Compliance and Configuration Management Services (CMCS)
IT Service Management Services (ServiceGrid) • Energy Management Services (Energywise) • Collaboration as a Service (CaaS)
Hundreds of cloud services are available on the market today, but Cisco's Global Intercloud is the only set of cloud services that allow customers to combine or move workloads between public clouds or from private to public clouds. Since the cloud services are designed for interoperability, customers can be assured that data or applications can be migrated easily while maintaining all security policies across cloud boundaries, something that is impossible with today's point product cloud offerings.
The go-to market for Intercloud is highly partner-centric. Cisco is expanding the "Cisco Powered" program to include all of the cloud services. The cloud offerings will be sold with and through channel partners.
Cisco offering cloud services could be viewed as a threat to partners, but the opposite is true. The company understands the scale and value its partners bring, and Cisco is providing a roadmap to help its partner base transition to the cloud rapidly. The partners that develop Cisco Power services can offer a wide variety of cloud services much faster and with lower development costs, while grabbing some share in its competitive market.
The cloud has certainly become a viable option for almost any business today – large or small. However, while disconnected clouds may solve certain tactical problems, it would be hard to leverage the cloud as a long-term, strategic platform without something like Cisco's Intercloud in place.
A world of connected, federated, interoperable clouds is certainly a bold vision, but bold is usually what it takes to catch market transitions and move into a market leader position, which is why Cisco is willing to bet $1 billion on this opportunity.