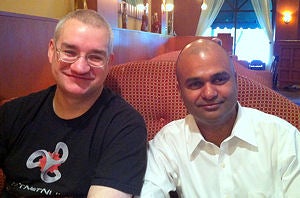 Living here in South Florida, I always tell family and friends that sooner or later you will all wind up here. I usually mean in terms of retirement. While Boca Raton has some tech activity, it is hardly a Silicon Valley.  So I was quite surprised to receive a call that some of the management team of DotNetNuke was going to be in Boca and would I like to meet with them.  I have written about DotNetNuke in the past. They are the leading .Net based open source CMS. I met with Navin Nagiah, CEO of DotNetNuke and Joe Brinkman, co-founder and Accidental Geek here in Boca last week.
Open source CMS is a thriving market and it usually sets off a lively debate whenever I write about , especially DotNetNuke.  Not sure if it is a Microsoft/open source thing or not, but in spite of what some of the commenters in the past have done to throw mud at DNN, I think the team has done a great job in growing this product up.
Navin and Joe shared with me two recent news items about DotNetNuke. One is that they have migrated the core platform of the product from VB to C#. While this may just seem too geeky and who cares to some of you, it is important in that it is another sign that Microsoft's emphasis of C# over its former bread and butter, VB is making its way into the ecosystem.
The bigger news for me though was that DNN had acquired Active Modules. Active Modules is a leading provider of social collaboration solutions for DNN users. Using Active Modules DNN customers will now be able manage their content within Facebook and other social networking platforms.
While we have all heard about the importance of social media, I asked Navin and Joe, why now.  Navin gave me one of the best responses on this subject I have heard and one I have already re-used myself.  Navin said that up until now we have all been on the public web.  There are probably over 2 billion of us on this public web and each of us is trying to be heard. On the public web trying to be heard above the other 2 billion + people meant you had to scream loud.  The people or entities that screamed louder, more often and longer were the ones that got heard.
In the new world of social collaboration it is not necessarily who screams loudest or longest. In this "private web" if you will there will be new rules to manage content and communicate.  Facebook is one such place. Boasting near 600 million users today, nearly 25% or more of all Internet users are on Facebook. They spend more time on Facebook then they spend on the rest of the web combined (or nearly so it seems).  Reaching these 600 million users is not about screaming the loudest. 
Active Modules is developing solutions that allow you to better communicate on places like Facebook.  I spent some time talking with Navin and Joe about companies that seem to get this new way of communicating. Smart content management is going to be key to this according to Joe and Navin. DNN wants to be at the forefront of this shift from screaming loudest to communicating smart.
The modules in from Active Modules will not be open sourced (at least not right away), but will be sold as commercial add ons. DNN in general while continuing to support the vibrant community around it, is exploring new models to increase revenue (they are a for profit company after all).  Hosted versions are one option, working closely with development partners and Microsoft are another.
Overall though, DNN appears to be thriving. In a very crowded CMS space they have carved themselves a nice niche using .NET. There are other .NET CMS tools but Navin says they really don't run into them much. Because they are on a .Net specific platform, they really don't run into non-Microsoft CMS like Drupal or WordPress much either.
It is good to see a company following a solid open source model doing well. I am looking forward to the next time Navin, Joe and team make the trek to South Florida!
Authors Note: Seems I was wrong about the open source future of Active Modules. The DNN team sent me this clarification today along with a link to the M&A FAQ:
The Active Modules products are currently available on the online market for DotNetNuke apps, www.Snowcovered.com. They will remain available for purchase until the corresponding products are integrated into one of the DotNetNuke product editions.More details on the plans for integration can be found on a FAQ at: http://www.dotnetnuke.com/News/PressReleases/DotNetNukeCorpAcquiresActiveModules/ActiveModulesAcquisitionFAQs/tabid/2163/Default.aspx  
The forums capability in Active Forums will be integrated into all versions of DotNetNuke, the open source version – DotNetNuke Community Edition – as well as the commercial versions – DotNetNuke Professional Edition and DotNetNuke Enterprise Edition. Some Active Social features including the Journal capability will be integrated into all editions of DotNetNuke and some will be integrated exclusively into the commercial editions. The Active Purchase module will be available in the DotNetNuke Professional and Enterprise Editions with expected availability in Q2 2011. All functionality integrated into the DotNetNuke Community Edition will be part of the open source DotNetNuke core framework.
DotNetNuke Corp. sees the acquisition as a great win for the DotNetNuke framework. All DotNetNuke users will be able to increasingly leverage social collaboration with the key components that will be integrated into the open source core. Active Modules technology will also be foundational to the company's broader social media strategy for the Community, Professional, and Enterprise Editions.