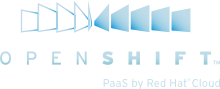 If as many foretell PaaS becomes the dominant cloud flavor of the near future, open source will be well represented in the PaaS lineup.  The latest entry into the opens source PaaS sweepstakes is OpenShift by Red Hat. Building on the power of JBoss, like other PaaS entries it is all about the languages it supports.  OpenShift supports Java, Python, PHP and Ruby, including Spring, Seam, Weld, CDI, Rails, Rack, Symfony, Zend Framework, Twisted, Django and Java EE.
In the open source PaaS market OpenShift joins VMware's Cloud Foundry and the joint offering from Zend (the PHP people) and RightScale Solution Pack that offers yet another open PaaS solution. These all compete against the PaaS lock in offered by Microsoft and Google.
With everyone seeming to throw their hats into the PaaS ring, you are going to need a scorecard to tell all of these apart. Which languages they support seems to be an early way differentiating these.  In that regard the Zend solution, being so PHP heavy might be at a disadvantage. But honestly it is way to early and PaaS is still in its infancy to be declaring anyone of these winners or losers just yet.
The players are lining up though.  Red Hat will offer and open alternative to Linux based PaaS compared to Google's Linux Paas which will not be open. VMware is looking for an end around some of these bigger competitors and it looks like they think open source can help them get there. In the meantime some of the smaller players like Zend and RightScale realize that they are going to have to team up to compete. 
All in all it should make for some great choices for developers looking to move to a PaaS environment. No matter which of thse PaaS solutions becomes dominant there is a good chance it will be open and cross-cloud functional.