Three major factors are driving more IT departments to look into managed LAN services: the increasingly dispersed locations of company branches; the security challenges that naturally come with relying more on wireless access points; and the advent of high-bandwidth applications that have made managing local networks much more difficult than when networks were only for data transfers.
There was a time when the decision to manage LANs in-house was a no-brainer. LANs by definition cover a small area and have traditionally been simple operations to run and maintain.
But last year, telecom analysis firm Insight Research reported that managed LAN services were the fastest-growing segment of the managed services market, with growth rates 50% higher than aggregate managed services.
The recent economic downturn won't result in "any kind of drastic change" in demand for managed LAN services, says Insight president Robert Rosenberg. While his firm is still working on projecting growth rates for this year, he doesn't expect the updated projections to differ significantly from 2007, during which Verizon Business, AT&T, as well as by systems integrators, such as IBM and EDS were leaders.
Vendors, analysts and customers typically point to three major factors driving IT departments to look into managed LAN services: the increasingly dispersed locations of company branches; the security challenges that come with relying more on wireless access points; and the advent of high-bandwidth applications that have made managing local networks much more difficult than when networks were only for data transfers.
With regards to using LANs for high-bandwidth applications, Rosenberg says that the big driver in LAN complexity is the desire to make network systems relatively simpler by moving all major applications they support to IP. Irwin Lazar, an analyst at Nemertes Research, says that more companies want to have outside parties manage their LANs to ensure that critical applications such as voice and video experience minimum latency and jitter.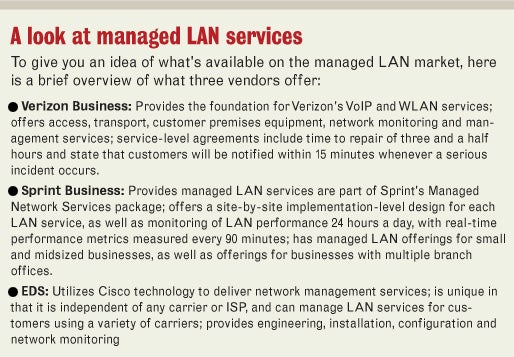 "Companies are much more interested in managing VoIP, Web applications and video quality on their LANs than they used to be," Lazar says. "Application performance is key, and companies that are deploying local VoIP or videoconferencing networks are often looking to the ISPs to provide managed services for them."
Patricia Wilkey, the director of global desktop and mobility services for IT and business process outsourcing firm EDS, says much of the growth that her company has seen in managed LAN services has been the result of desktop applications such as instant messaging becoming converged with network management.
"If you look at how Exchange '07 works, for instance, you can now have unified messaging so your voice messages can be put into the Exchange environment. The enterprise is trying to really harness these productivity gains and link them to unified communications," she says.
Increased number of branch offices also a big driver
Moving all applications to IP is just one of the major factors driving managed LAN adoption. As companies invest more resources into creating branch offices, many of them are looking for ways to cut down on the number of IT staff they employ. So instead of having an entire IT department dedicated to managing LANs at branch offices, many of them are merely relying on third parties and consolidating their expenditures. Jim Pazour, a network supervisor at National American University, says that his network has to support about 6,000 students systemwide, in addition to 1,000 employees spread across 17 locations. There is simply no way for him and his staff to manage all the minutiae of campus LANs given their finite resources, he says.
"We need someone to monitor and maintain these LANs 24 hours a day and it would be too difficult for us to troubleshoot them all on our own," says Pazour, who has subscribed to Verizon Business's managed LAN services for the past three years. "We didn't want to have IT staff at all of our different locations."
The key to successfully implementing managed LAN services over a wide variety of locations, Pazour explains, is to make sure you have identical network layouts, even at remote locations. Once you've standardized the network layout, you can go to the managed LAN vendor and ask for specific models of routers and switches that can be deployed identically throughout all branch locations, he says. John Buxton, who serves as the IT director at National American University, says that this cookie-cutter approach has been a big help in integrating voice, data and video applications, because strategies for deploying them at one location will work at the other locations as well.
"We've reduced cost, we've increased uptime and we've decreased the amount of labor we need," he says. "It really was a win-win situation."
As companies increasingly rely upon geographically dispersed locations, many of them also are turning more toward wireless LANs (WLAN) to deliver services to their workers. Wilkey notes that the advent of WLANs is sparking more demand for managed LAN services, because wireless systems require greater attention to security measures than wireline systems do. Additionally, she says that wireless networks present much different design changes than wireline networks, which means that many companies may feel more comfortable consulting with an established carrier or service provider to design, implement and manage their WLANs than with their own in-house operations.
"The biggest challenge comes from physical barriers that exist within your environment. If you're in a government building that was constructed with a lot of cinderblock, for instance, then designing the network properly becomes critical to controlling costs," he says.
Potential drawbacks
Managed LAN services aren't for everyone, however. For companies that require immediate fixes to LAN problems, for example, having an outside party manage the LAN may be less than ideal. Pazour says that while Verizon Business works as quickly as possible to fix problems in the system, it still takes time for IT workers on his staff to report problems.
"You can't make changes on fly," he says. "You have to submit a trouble ticket, so it does create some delays. In a way it's a bad point, but there are both drawbacks and advantages to it. There's checks and balances in place to make sure that the network is up and running."
Lazar says another potential downside is the complexity of negotiating a managed LAN contract, as companies have to cover a lot of different bases to set parameters for both service quality and application management. Additionally, companies with a large international presence might have trouble finding one managed LAN vendor that can service branches all across the world and many companies will likely have to go with more than one vendor, he says.
"First and foremost, companies should cast a wide net and look at a wide variety of providers," he says. "As a rule during negotiations, you want to tell the vendor everything that's important to you, such as your criteria for success. Obviously, if the provider doesn't know how to handle voice services, then that's a mismatch."
Finally, companies should think long and hard about whether they really need to have a carrier manage their LAN for them, or whether they simply need a good LAN management tool that they can use to manage the LAN themselves. Small businesses with few branch locations and relatively simple LAN demands in particular might want to think twice before paying an outside party to take over their LAN management duties. Curt Benton, the president of fine art print house Pixel2Canvas in Lake Forrest, Calif., uses XRoads Networks' Edge WAN and Internet Load Balancer to ensure network uptime and to add incremental bandwidth during peak hours.
"The only thing we really needed to keep our LAN in good shape was a tool that would supply us with graphs to check our bandwidth to ensure things are running smoothly," he says. "The main thing is that we're notified in the event where one of our machines is infected, which we're able to identify by looking at traffic patterns. Now we have a lot fewer service outages and bandwidth fluctuations, which is really all we want out of a LAN."