3Com offers a safe bridge to UC for SMB market
VCX Connect hits homerun on survivability
In our continuing series of Clear Choice Tests of Unified Communications platforms, we found 3Com's VCX IP Connect 100 and 200 telephony products hit their target: providing small to midsize business with seamless voice and data messaging services.
In our continuing series of Clear Choice Tests of unified communications platforms, we found 3Com's VCX IP Connect 100 and 200 telephony products hit their target: providing small to medium business with seamless voice and data messaging services (compare products).
---
How we tested 3Com's gear
Archive of Network World tests
---
A major strength of the VCX Connect system is survivability, because it supports full redundancy with dual gateways. We observed transparent failover not only for phones but also for media gateways and other messaging applications without the system dropping a single call in progress. The other strong points of this UC platform are its centralized management scheme, its strong conferencing capability and its Session Initiation Protocol (SIP) interoperability.
The configuration we tested included components that would reside in a main office, a secondary regional office, a branch office and a home office.
The VCX Connect 100 is a purpose-built IP/PBX appliance while VCX Connect 200 IP-PBX is pre-installed on a Linux-based IBM x3250 server.
Each VCX100 Gateway can support up to 100 softphone, desk phone or analog devices and the gateways can be strung together for larger deployments. The VCX200 has a greater capacity with each supporting up to 250 devices.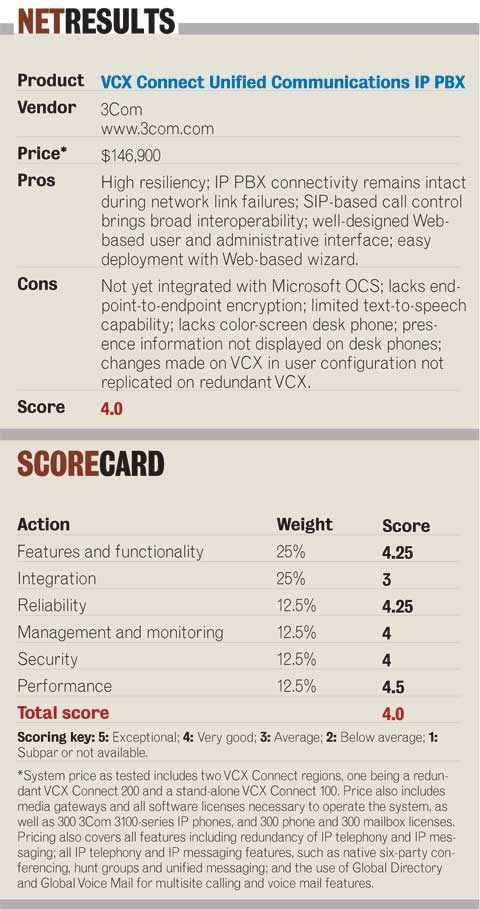 Both platforms support SIP multimedia communications as an interoperable standard which is good for third-party endpoint connectivity and for connecting through SIP-based trunk and hosting services.
The appliances can be configured with optional redundant RAID hard disk drives that feature write-both, read-either functionality. A redundant power supply is available for the VCX Connect 100. Full system resiliency is provided by configuring two VCX 100 appliances or two VCX 200 servers with one of each in primary or secondary mode. During testing, we learned that the secondary server used only a small amount of bandwidth as it maintained synchronization through replication and mirroring.
This solution is modular, which allows for office expansion simply by adding extra VCX Connect servers to the network. The VCX Connect system also permits adding extra VCX gateways for load sharing or to handle call overflow. The gateways can be dedicated for either inbound or outbound messaging.
Our functional scalability tests determined that the VCX Connect 100 and 200 systems allows up to six servers or regions to be connected with no degradation in service.
The initial installation of IP telephony to remote offices is simplified through the use of multiple configuration templates. To ensure a uniform look and feel throughout a company, system administrators can use 3Com's Global Directory and Global Voicemail functions.
The VCX Connect platforms handle unified voice mail and e-mail messaging services. Additional UC functionality can be incorporated by adding an additional server with 3Com Convergence Applications Suite modules that provide conferencing, presence and telecommuting capabilities. 
In the test bed, VCX Connect 100 was pre-installed on a 1U appliance in the secondary regional office and VCX Connect 200 was pre-installed on an IBM X3250 server in the main office. Both platforms come with 25-user licenses for testing.
In the main office, there were two VCX Connect 200 gateways (a primary and a secondary), a 3Com IP Conferencing Module, a 3Com IP Telecommuting Module, a 3Com X5 Unified Security Platform, a 3Com 5500-EI PWR 28-port Ethernet switch and several 3Com 3102 and 3103 IP phones.
The regional office had a VCX Connect 100 platform, the 5500-EI switch, several 3Com 3102 and 3103 IP phones and the 3Com Convergence Client softphone running on a laptop. The branch office had the same endpoints but did not include the VCX Connect 100 platform. It had a 3Com 4200G PWR switch and a 3Com VCX V7111 Analog Media Gateway.
The home office had only a 3Com router, an IP phone and the 3Com Convergence Client softphone. The home office in our test bed relied on the VCX Connect IP Telecommuting module to enable secure remote telephony and messaging. The application ran on a separate IBM X Series server in conjunction with the 3Com X5 firewall. The telecommuting module eliminates the need for VPNs or leased-lines and can support up to 6,000 remote workers. We also tested the solution's mobility functions using Hitachi and Nokia (E61) dual mode phones, several BlackBerry PDAs and a Hitachi IP5000 wireless (802.11 Wi-Fi) IP phone.
Redundancy is key
To test the system's survivability, we disconnected and shut down the different system components and processes, as well as interrupted redundant link connections between the VCXs. The VCX Connect system instantly reacted to these shutdowns by switching to the appropriate hot standby device. Failover for phones, media gateways and applications, including messaging, were transparent as the system replicated data in real-time between controllers. Calls stayed intact and voice mail remained accessible during interruption or disconnection of either VCX Connect server in the main office.
For remote office survivability, the VCX Connect platform includes inbound and outbound PSTN, LAN and WAN failover capabilities. Telephony at the branch and regional offices remained available when both VCX Connect servers in the main office were disabled. This was a simulation of a WAN or Internet outage.
IP PBX expansion is a perfect use for platforms such as the VCX Connect. It is easy to enlarge existing IP PBXs through the use of the modular VCX Connect. We installed a VCX Connect 100 server as a new regional communication server to an existing IP PBX environment. The VCX Connect installation process was virtually automatic. After a few basic settings were made to accommodate DHCP configuration, the new VCX downloaded the remaining configuration and complete telephony-control software image from the operational main VCX server.
For security testing, the VCX100 and 200 systems survived a battery of security vulnerability scans that were conducted using Mu Dynamics 4000 Analyzer in conjunction with an implementation of RFC 4475 for SIP protocol call setup handling (see How we did it sidebar).
The VCX Connect's management application is centralized, capable of managing many devices through similar screens, and accessible via a browser. We were particularly impressed by the wizard that simplified configuration of the full deployment of the redundant systems. The GUI allows administrators to configure device and user settings and it enables importation of pre-configured provisioning data, such as phone extensions, using a set of CSV or Microsoft Excel files. One problem we noted, however, was that actions performed on one of the gateways were not automatically updated to the redundant gateway.
The menu prompts presented to administrators and users are very similar, yet they provide separate levels of access and security. For example, with regard to the configuration screen needed to set up an endpoint device, the users' screen only presents the device assigned to him, while the administrator sees all the possible phones in the system. Depending on your authorized privilege level when you log into the management application you are permitted or restricted to the appropriate screens accordingly. It features intuitive graphic maps for tasks, including system modification, component activity information, system backups and restores.
Simple as SIP
Because the VCX Connect architecture is based on SIP, it does not employ a proprietary call-control protocol. As such, it seamlessly integrates with third-party applications and devices.
We tested SIP interoperability using WinSIP, Clearsight Analyzer and Mu Dynamics SIP test suites. We verified the results by successfully plugging-in and using IP phones from Polycom (models 650, 550, 430 and 330), Grandstream and Snom, as well as with Hitachi and Nokia (E61) dual mode phones and wireless SIP phones from RIM/Blackberry and Hitachi.
Based on these results of the VCX Connect platform, we can extrapolate that it should also work with SIP-compliant IP phones sold by others including those offered by Avaya and Cisco.
See me, hear me, read me
All the telephony and messaging features worked well. One example was the ability to preconfigure conferencing screens in terms of the use of video/audio, the number of users to be included in the conference, duration of the conference and whether it is a recurrent event. This conference functionality is richer than others tested in the past in this market space.
In testing the 3Com Convergence Applications Suite, we saw great success with conferencing for up to 150 audio sessions with a maximum limit of 100 users per session. Numbers, however, drop dramatically when video conferencing is used. Presence propagation was also a problem because the 3Com handset did not show presence indications.
The system's video capabilities were good. Using SIP-based videophones, the clarity and contrast were above expectations and there was no choppiness in the picture or transmission. H.263 video was particularly well done with good set up controls.
The video quality provided through 3Com's PC-based softphone application, the 3Com Convergence Center Client, was also excellent. In fact, this softphone is one of the better UC clients we've tested, when considering ease of use, video quality and bandwidth utilization. It features easy-to-use controls and a wide range of presence-enabled communication options including voice, video, conferencing and messaging. It can be accessed from anywhere using a VPN.
3Com does not offer a color-screen desk phone and that might be an issue for some customers who want that feature.
The VCX Connect appliances support e-mail, voice mail and text messaging, fax delivery to e-mail, desktop sharing, multiple phone appearances on an extension, remote collaboration and other functions found in most unified communications platforms
We tested the features and functionality of the VCX Connect and found the system to be both feature-rich and straightforward to use. Features including e-mail integration, voice message access, text messaging, fax to e-mail, as well as the standard IP PBX feature worked, the only significant observation from testing was the ease in which these features were configured through the Web GUI.
The software developers kit was comprehensive and offers extensive API customization to allow the customer to tailor the environment beyond what the out of the box capabilities afford, including a program that provided XML access for CRM that could launch based upon incoming calls to the soft phone application.
In testing the integrated unified messaging – called the "find me follow me" feature -- allowed our test caller to reach the intended recipient with a single prompt after the UC system transparently parsed a dozen phone numbers looking for the recipient.
One drawback, something 3Com indicated it is addressing in future releases: the VCX Connect appliance does not integrate with Microsoft OCS. Also, the system's text-to-speech functionality is somewhat limited. Currently text to speech is used only to announce the names assigned to extensions that are not recorded by the user.
With its VCX Connect platforms and the available software applications in the Convergence Applications Suite, 3Com provides small organizations with a comprehensive menu of products that can quickly take them from legacy TDM-based PBX telephony to state-of-the-art IP-based unified communications. Companies that are growing will have no problem expanding with remote offices. With an IP PBX network based on the VCX Connect platform, expansions are essentially a plug-and-play effort.
Testing showed the 3Com solutions to be highly secure and reliable. The availability of optional RAID hard drives and – in the case of the VCX Connect 100 – redundant power supplies, makes VCX Connect a safe choice for businesses with branch/remote offices and telecommuters.
Smithers is CEO and president of Miercom, Mier is senior partner of Miercom, an independent networking equipment testing lab for more than 20 years. They can be reached at reviews@miercom.com.