25 crazy and scary things the TSA has found on travelers
From snakes, chain saws, stun guns, grenades and cannonballs, the Transportation Security Administration has not seen it all yet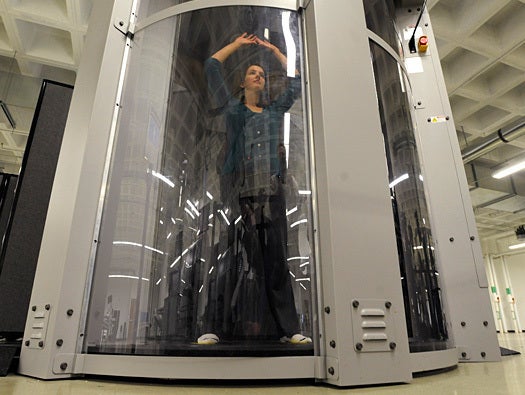 People do try to take the strangest and sometimes extremely dangerous things on airplanes. Even if you did live under a rock you'd know better than to take saw blades, blasting caps, motor or bazooka rounds onto an aircraft. But those are just a few items the informative Transportation Security Administration Blog says its officers found last year during airport screening. Here we take a look at some of the more bizarre items and wonder, what were these people thinking?
Real snakes on a plane.
The TSA Blog says a container of dead venomous snakes was found in checked baggage at Newark. The TSA notes too that dead snakes are not prohibited from flying on planes. The large liquid jar holding the snakes needed to be inspected due to an explosive detection system alarm.
Saw blades on a plane?
Not quite but this traveler tried to bring them on tucked in a iPad. The TSA put the kibosh on this packaging, though let the passenger board his flight. Apparently these were Christmas gifts.
Keeping with the blade theme.
The TSA says the chainsaw found at Elmira check-in was not the problem -- the fact that it was gassed up and ready to go was. You can check a chainsaw but, uh, leave the gas somewhere way far away.
We have a gun problem, but you knew that.
According to the TSA, 1,543 firearms were discovered in carry-on bags in 2012. That's a little over four firearms per day. Of those, 1,215 (78.7%) were loaded. Firearms have been found at a total of 199 airports with Atlanta on top of the list - 95 in 2012.
Grenades are OK, right?
A passenger in Las Vegas said he truly didn't know that grenades were a problem because they placed it in a divesture bowl out in the open for all to see. The passenger stated that he uses the item as a paper weight. Another passenger at Newark had a novelty grenade torch lighter in their checked baggage.
More grenades
Hand grenades were a big problem in December as the TSA said it found 10 in one week.
Peanut Butter Pot
The TSA blog noted that this was the third time they'd noted passengers tried to hide marijuana in a jar of peanut butter. Sounds like the passenger was just planning for the munchies.
A flask of black powder
Five ounces of black powder in a small flask was discovered at Syracuse. Even an amount as small as 5 ounces of black powder in a small container can cause a significant explosion.
Canonball
A cannonball was discovered in checked baggage at Ft. Lauderdale. The TSA blog says it wasn't malicious, just a diver who found the old projectile near a 1750-1800 era shipwreck. It was determined that the coral covered cannonball was explosively viable which triggered an evacuation of the checked baggage area and a visit from a TSA explosives specialist and a Broward County bomb technician.
Stunned
A stun gun designed to look like a cell phone. Those data overcharges can be shocking.
IED
An inert IED with a block of simulated SEMTEX-H explosives, and a simulated blasting cap were discovered in checked baggage at Columbus.
Watch the IED
Yet another IED scare this one a strange watch resembling an IED component was discovered at Oakland.
Powder horn
A powder horn with approximately three ounces of black powder was discovered in a carry-on bag at Little Rock.
Chastity belt
The TSA blog didn't say where this happened but apparently a passenger wearing a chastity belt alarmed the body scanner at one of our checkpoints. There must have been a time machine near-by.
Samurai
Samurai swords at JFK. John Belushi would have been proud.
Something is fishy
A passenger was apparently trying to stock a major aquarium as he had 163 marine tropical fish, 12 Trachemys Scripta (red sliders), 22 invertebrates, 24 live coral pieces, eight pieces of Scleactinina with mushroom polyps, and eight pieces of soft coral to Maracaibo. The passenger surrendered the items to the US Fish and Wildlife Service.
Walking can be dangerous.
The TSA noted that usually the only attachments you see on walkers are tennis balls, but this one had a knife mounted on the front.
Christmas decorations
These are not Christmas tree decorations. Rather these throwing stars were found at a number of checkpoints.
Artillery
A replica of a pretty good size artillery round.
Where do you usually keep your smartphone?
This person was traveling with a VCR that included a VHS tape along with 23 smartphones each individually wrapped in aluminum foil and taped to the unit. There was nothing prohibited or dangerous, so the items were cleared for travel, the TSA said.
Grenade launcher
A grenade launcher was discovered during a search in checked baggage at Seattle Tacoma.
Bear mace
A large can of bear mace was found concealed in the passenger's sock at Newark airport because you know those bears in Newark are unruly.
In Boston last week a serrated wire garrote was discovered in the passenger's carry-on bag.
Mickey's packin'.
TSA shows parts of a pistol that were found hidden in a stuffed animal at T.F. Green Airport in Warwick, R.I.
Copyright © 2013 IDG Communications, Inc.
Next Up: Check out these related slideshows