15 high- tech wristwatches that would make Dick Tracy jealous
Many have tried to create a wristwatch device that would bring Dick Tracy's famous device to life.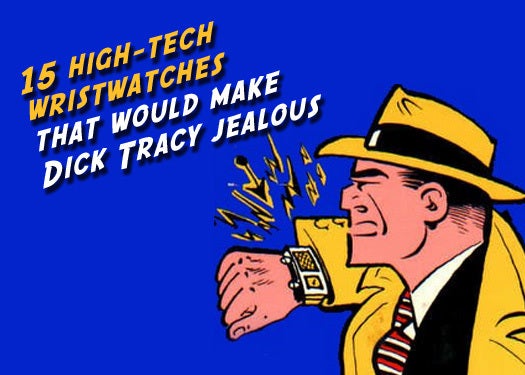 The Dick Tracy Theory: 15 Attempts at Putting a Computer on a Watch
Plenty have tried, yet none have succeeded at making the wristwatch form factor a popular one for personal mobile devices. Several factors contribute to this reluctance to wear a smart device on the wrist, including as style, tradition, and the fact that many who would purchase them don't need to because they already have a smartphone. As with any other form of technology, these barriers have yet to stop creative minds from trying to break the mold. Here's a look at the latest in cool watchwear.
Related: 15 Techie Wristwatches Worth Wearing 
Windows Phone Watch Concept
Nokia isn't alone in the race to capitalize on the growing Windows Phone buzz. Earlier this year, Indian developer Mithun Darji showed off his prototype of a Windows Phone 7-based wristwatch that looks like a prop in a science-fiction movie. The device comes with built-in apps, Wi-Fi connectivity and an integrated Bluetooth handset. And at that size, it also probably comes with some serious wrist problems.
WiMM One
Google's Android mobile OS has opened the doors for smartphone manufacturers across the world to experiment with form factor on smart mobile devices. Naturally, this has led to several attempts at bringing the software to the wristwatch. The WiMM One, first displayed at this year's Consumer Electronics Show, packs Android 2.1 into a one-inch square package and even shrinks down applications into "Micro Apps," a term coined by WiMM Labs. Although it's too soon to tell, the one-inch WiMM One may be a small fish in a pond of Android devices that are famous for enormous screen sizes.
Microsoft SPOT
In 2004, Microsoft thought pretty highly of its new, ARM-based wristwatch device, so much so that the company expected people to shell out $299 for one of them. The Microsoft SPOT, an acronym for Smart Personal Objects Technology, provided access to weather updates, stock quotes, sports scores, headline news and Outlook calendar reminders through its soon-to-be-defunct DirectBand network. And while that all sounded great, the customers Microsoft was targeting with the device likely already had it in the form of a PDA or a laptop.
HP Smart Watch Device Concepts, Circa 2004
Consider the most common uses for a tablet. Now, think about each one assigned to an individual device you wear on your wrist. In 2004, that's what HP researchers did, and some. As outlined in this document, the proposed line of smart wristwatches included the Info Watch, which offered web access, the Digital Wallet, which provided mobile banking, the Family Awareness Watch, a creepy GPS tracking system, and the Web Cam Watch, which provided streaming real-time video playback on a wristwatch. Perhaps the most impressive was the Shop Watch, which boasted ahead-of-its time RFID scanning and Shazam-like capabilities for tagging music or bookmarking advertisements for reminders later on. The only problem was the smartphone soon did all the same without the need to wear five watches at the same time.
iPod Nano Wristwatch
Apple really took the surname "Nano" to heart when designing the latest generation of its smallest iPod. And when the 1.5-by-1.6-inch minimalist MP3 player hit the market, it was just asking to be attached to a wristband. The iPod Nano wristwatch may have the most potential on this list, if only because Apple has supported it by encouraging shoppers to wear it on the wrist and selling its own line of watchbands in the Apple Online Store. And with increasingly complex editions of the iPod Touch, iPhone and iPad hitting the market, the iPod Nano Wristwatch could be a perfect gift for those with limited technological experience.
iWatch
Before the new, miniscule iPod Nano entered the conversation, designer Peter Burns came out with the wrist-mounted iWatch. Rather than strapping a watchband to a tiny iPod, which didn't exist when Burns released his design in July 2010 (the sixth generation wasn't announced until September), the iWatch is basically a traditional iPod wrapped around the user's wrist. Even with the now-retro iPod menu on the front of it, Burns was slightly ahead of his time with the design.
LG GD910 Watch Phone
With a product name that doesn't mix words, LG was able to create some excitement around its Watch Phone at the 2009 CES. Although the watch was the first that was 3G-enabled, the front-facing camera for video chat was what really turned heads. Being able to video chat on a wristwatch made the GD910 the closest to a James Bond toy as any other that had been seen on the market. But that wasn't enough for most people to get over its hefty $826 price tag.
Kempler & Strauss W Phonewatch
In 2010, after having watched others try to over-complicate their wristwatch phones, mobile device designer and manufacturer Kempler & Strauss came out with its more simplistic W Phonewatch. Without the frills of Wi-Fi or 3G connectivity, the W Phonewatch is marketed as a touchscreen, SIM card-enabled option that connects to Bluetooth devices. But for $200, Kempler & Strauss may have scared away smartphone owners by asking them to pay the same for an accessory as they did for their initial device.
Avatar Watch Mobile Phone with Keyboard
Why not just strap a traditional cellphone to your wrist? That's essentially what you'd be doing with the Avatar ET-1 Watch Mobile Phone. The numerical keypad does seem a bit redundant when you find out the phone also supports touchscreen. Why not just enable the keypad that way?
I'm Watch
Remember the iPod Nano Wristwatch? Imagine that, but with Android OS and just 4GB storage. There you have the I'm Watch, developed by the aptly named Italian company I'm SpA. The I'm Watch does provide a few advantages over the iPod Nano, including effective app use for basic tasks like updating social networking sites and playing music. Now, if I'm SpA can find a way to bring down the $330 price tag, it may be able to capitalize on the buzz it created at this year's CES.
Hyundai W-100 Watch Phone
In 2007, Hyundai came out with a watch phone that was dressed up in buttons and featured a digital screen to display messages. The W-100 Watch Phone also boasted a 1.3-megapixel camera, MP3 playback and Bluetooth connectivity. Unfortunately for Hyundai, the October 2007 release meant that W-100 Watch Phone was put on the backburner while the rest of the industry buzzed about the developing smartphone craze. That likely ruined any chance the Watch Phone may have had.
Sony SmartWatch
The advent of the Android operating system has reignited interest in the wristwatch device, resulting in an onslaught of new smart watches at this year's CES. Sony's contribution was the SmartWatch, the third Android-powered device on our list that was displayed at the 2012 CES. With its Bluetooth connectivity, the SmartWatch has been hailed as a convenient accessory for alerting users about notifications for calls, messages, emails and even social network updates without having to take their phone out of their pocket. And with the option of several different colored wristbands and a relatively low $149 price tag, Sony may be onto something with the SmartWatch.
Samsung s9110
Ever the competitor, Samsung rushed to get its touchscreen cellphone/wristwatch hybrid out to market a month before LG could release its Watch Phone. And with such impressive features at the time as Bluetooth 2.1, voice recognition and email sync with Outlook, as well as a large screen but still sleek design, Samsung had the potential to beat LG to a new trend. Three years later, we can chalk this up to foreshadowing of the smartphone race.
Casio BlueTooth Low Energy Watch Prototype
At the 2011 CES, Casio went after the environmentally conscious mobile device user with its low-energy, Bluetooth-enabled watch developed for cellphone alerts. And while others had already tried breaking into that market, Casio's dark horse was its support for Bluetooth 4.0, which at the time was rare in the mobile phone market, and is now found on Apple's iPhone 4S and multiple versions of the MacBook. If that wasn't enough, Casio's claim of two-year battery life off one coin cell should turn some heads, regardless of what you think about the environment. Now if they can make it look like it wasn't made in 1993, they could be onto something big.
Nike+ FuelBand
The Nike+ FuelBand takes the idea of a digital exercise assistant and elevates it to another level. By connecting the device to the user's Facebook and Twitter, the FuelBand makes the workout visible to all the user's friends and connections, inviting both fellow runners to provide motivation and that ex-girlfriend to see how much you're working out these days.
Next Up: Check out these related slideshows