The fierce battle for intellectual property
Microsoft, Motorola, Oracle and Google, Facebook and many others are fighting for a piece of righteous intellectual property pie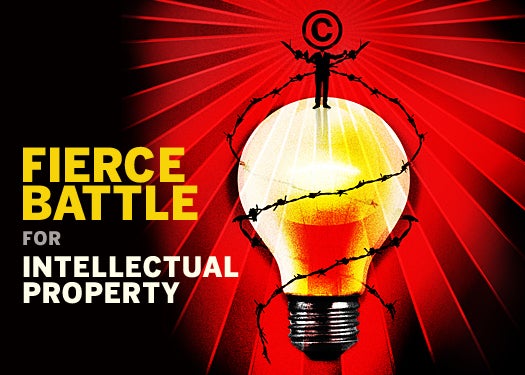 Everywhere you turn it seems there is a major battle over intellectual property. And the battle involves some very big entities – Microsoft, Motorola, Oracle and Google to name but a few. There is also a giant battle brewing between the U.S. and China over intellectual property, that former White House Cybersecurity czar Richard Clarke says needs to be settled soon before all U.S. trade secrets are siphoned off to that country. Here we take a look at some of the issues and some of the players in this fight.
If Congress will not act to protect America's companies from Chinese cyber threats, President Obama must, wrote former White House Cybersecurity chief Richard Clarke in a New York Times editorial recently. He wrote about how the FBI, which recently said cyber-attacks, particularly from China would replace terrorism as the agency's No.1 concern and of the damage these attacks cause to American intellectual property.
Here a visitor looks at Apple patents displayed at the World Intellectual Property Organization (WIPO) headquarters in Geneva last month. The exhibition, "The Patents and Trademarks of Steve Jobs: Art and Technology that Changed the World" features 317 patents, including those for devices such as iMac, iPhone, iPad and Mac Book, that Apple's co-founder Steve Jobs and his company registered in the United States. It will run until April 26, 2012.
Oracle's intellectual property lawsuit against Google over the Android mobile OS will go to trial this month in U.S. District Court for the Northern District of California. Oracle sued Google in August 2010, alleging that Android was in violation intellectual property Oracle holds on Java, the open-source programming language. Google has denied wrongdoing, saying that Android is a "clean room" implementation of Java that doesn't violate Oracle's rights. Image shows status of all patent reexaminations in Oracle v Google as reported in Dec. 7 court filing.
Motorola recently refused Microsoft's offer of a $300 million bond to postpone enforcement of potential German injunctions against Microsoft products that use the H.264 video codec, which if granted could exclude Microsoft from the German market, according to court documents. Microsoft and Motorola Mobility are also fighting in the U.S. over $4 billion per-year patent royalties Motorola wants for use of technology in the popular Microsoft Xbox video-gaming system. In this picture, then Microsoft Chairman Bill Gates showed the Motorola MPx with Windows Mobile Software during a keynote address in 2004.
Rep. Darrell Issa, a California Republican, posted ACTA on his Keepthewebopen.com site Tuesday. Even though the U.S. and seven other countries signed the agreement in October, the public needs to be included in the debate as President Barack Obama's administration begins to implement ACTA, Issa said. Issa compared ACTA to the Stop Online Piracy Act (SOPA) and the Protect IP Act (PIPA), two controversial bills that prompted widespread online protests in late 2011 and early this year.
Boxes symbolizing 2,442,240 signatures of a petition against ACTA (Anti-Counterfeiting Trade Agreement) are brought to the European Parliament in Brussels in February 2012. Avaaz.org feared that ACTA, which aims to cut trademark theft and other online piracy, will curtail freedom of expression, curb their freedom to download movies and music for free and encourage Internet surveillance.
Shot of a folder is pictured during a hearing of an appeal between Apple and Samsung at the higher regional court in Duesselorf January 2012. A higher regional court said that Samsung may not sell the older version of its Galaxy tablet in Europe's biggest economy. Apple is fighting several rival makers of smartphones and tablet PCs in courts worldwide over intellectual property.
A man sleeps in front of an Apple iPad 2 advertisements at a bus station in Beijing Sept. 22, 2011. Apple has been granted 40 patents in China, which will help the maker of iPhones and iPads gain more intellectual property protection in the country.
In March, China's vice premier promised Apple CEO Tim Cook that the country would boost intellectual property protection in Cook's meetings in the company's biggest potential market.
Yahoo is accusing Facebook of copying a range of technologies that the flagging search company invented, in a lawsuit that alleges the social media giant infringes 10 patents. "Facebook's entire social network model, which allows users to create profiles for and connect with, among other things, persons and businesses, is based on Yahoo's patented social networking technology," Yahoo wrote in the lawsuit filed in March.
A worker carries a box of counterfeit goods at a site before destroying them, in Bangkok Aug. 29, 2011. Thai customs and police officials on Wednesday destroyed 120 tons of counterfeit goods by running a steamroller over piles of DVDs, handbags, clothing and watches. Thailand's government, which has been widely criticized for failing to tackle piracy, says it is committed to stamping out intellectual property violations.
An advertisement at an electronics store for the Samsung Galaxy tablet is seen in Utrecht in August of 2011. Apple scored its most significant victory in its intellectual property battle against Samsung Electronics after a German court temporarily barred the Korean firm from selling its flagship Galaxy tablet in most of the European Union.
Customers look at smartphones behind Samsung Electronics' Galaxy Tab tablets on display at a registration desk at the headquarters of South Korean mobile carrier KT. Apple sued Samsung Electronics claiming the South Korean firm's Galaxy line of mobile phones and tablets "slavishly" copies the iPhone and iPad, according to court papers, a move analysts say is aimed at keeping its close rivals at bay.
Spanish actor Javier Bardem attends a news conference to discuss the evolution of the film industry in the digital environment and address the challenges of copyright at the World Intellectual Property Organization (WIPO) headquarters in Geneva.
Sony product logos are seen at an electronics store in Tokyo. Sony Corp. believes it was targeted by hackers because it tried to protect its intellectual property in 2011.
U.S. Attorney General Eric Holder (C), Homeland Security Secretary Janet Napolitano (R) and U.S. Intellectual Property Enforcement Coordinator Victoria Espinel (L), applaud after Director of Immigration and Customs Enforcement John Morton finished speaking at a White House forum on intellectual property theft and the risks of counterfeited products for U.S. consumers at the White House in Washington.
Counterfeit goods seized by the U.S. government are shown on display at the National Intellectual Property Rights Coordination Center. The Organization for Economic Cooperation and Development estimates the amount of counterfeit goods and pirated copyrights in world trade grew from about $100 billion in 2001 to about $250 billion in 2007, the last year for which they have made an estimate. In the 2009 budget year, U.S. Customs agents and other officials made 14,481 seizures valued at $260.7 million.
This web page features the symbols of the U.S. Department of Justice (L) and the National Intellectual Property Rights Coordination Center is shown on a computer at the National Intellectual Property Rights Coordination Center. The website is posted by the U.S. government in place of any website that they have taken down for alleged illegal activity.
Here a worker from Peru's intellectual property protection agency, Indecopi, walks on illegally copied CDs and DVDs that will be destroyed in Lima. Indecopi has destroyed over 500,000 illegally copied material as part of a campaign against Peru's piracy market.
K.C. (top), the first animal produced by cloning from a cell taken from a carcass, is pictured with her traditionally bred calf Sunshine, who was born Dec. 17, 2004, in this undated photograph released by animal cloning and genomics services company ViaGen in November 2009. ViaGen owns the intellectual property rights to the technology that in 1996 produced Dolly the sheep, the world's first animal cloned from an adult cell, at Scotland's Roslin Institute.
As of March, Apple, Microsoft and a handful of other tech companies are now free to license $4.5 billion in patents they bought at auction last year from bankrupt Nortel, which could open up a can of worms for companies using technology covered by the patents.
Samples of seized NFL counterfeit merchandise is put on display during a news conference in Indianapolis February 2012.
A portion of the seized counterfeit iPhone rear panels, phone covers, and chargers with a street value of approximately $250,000. The accessories, believed to be imported from China, were recovered Oct. 20, 2011 by the detectives from the Los Angeles County Sheriff's Department, Commercial Crimes Bureau, working on information provided by Apple. A three-month investigation into alleged counterfeit iPhone parts being sold on the Internet through various auction sites yielded search warrants for locations in four Southern California cities and the arrest of two Chinese men and one woman for possession of known counterfeit iPhone parts with the intent to sell those parts to the public.
Next Up: Check out these related slideshows