The big time travels of Eric Schmidt
Google's Executive Chairman Eric Schmidt has had quite an entourage, from President Obama to Steve Jobs and Bill Gates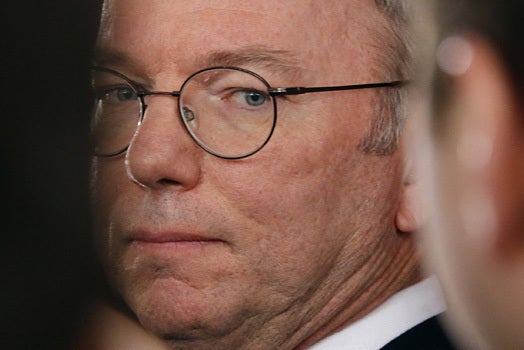 Google's Executive Chairman Eric Schmidt got a ton of not always positive attention when he and former New Mexico Gov. Bill Richardson visited North Korea last week. In fact Richardson said Schmidt was a rock star in the country. But Schmidt has been like a rock star in this country and others during his tenure at Google. Check out a few member of his "entourage."
U.S. delegation including Schmidt look at a student using the Internet with desktop computers as he visits Kim Il-Sung University in Pyongyang, on Jan. 8, 2013. North Korea did its best to butter up Google ahead of Executive Chairman Eric Schmidt's visit by setting up a gmail account for its state news agency KCNA at kcna@gmail.com.
Schmidt here faces a wall of news photographers before a Senate Judiciary Subcommittee hearing called "The Power of Google: Serving Consumers or Threatening Competition?" on Capitol Hill.
Schmidt was with Steve Jobs when Apple unveiled an eagerly-anticipated iPod mobile phone in 2007.
Here President Barack Obama speaks to the media alongside Schmidt and other company CEOs during an economic meeting in the Roosevelt Room of the White House in Washington 2009.
Google Chief Executive Eric Schmidt (L) gestures during an interview with Co-Founders Larry Page and Sergey Brin (R) at the annual Allen & Co conference in Sun Valley, Idaho.
Then California Gov. Arnold Schwarzenegger, Sun President Jonathan Schwartz, Yahoo Chairman Terry Semel and Google Chairman Eric Schmidt stand together at the International Council meeting of The Paley Center for Media in San Jose.
Sen. John McCain chats with Schmidt during a town hall meeting with Google employees at their headquarters.
France's President Fancois Hollande attends a meeting with Schmidt at the Elysee Palace in Paris.
Schmidt and Rahm Emanuel, mayor of Chicago, attend the Allen & Co Media Conference in Sun Valley, Idaho.
Michael Dell, chairman and CEO of Dell, and Schmidt talk during lunch at the Sun Valley Inn in Sun Valley.
Schmidt and Bill Gates former CEO of Microsoft talk outside the Sun Valley Inn in Sun Valley, Idaho.
Copyright © 2013 IDG Communications, Inc.
Next Up: Check out these related slideshows