10 (FREE!) Microsoft tools to make admins happier
From migrating away from Windows XP to managing Active Directory, there's help at no cost.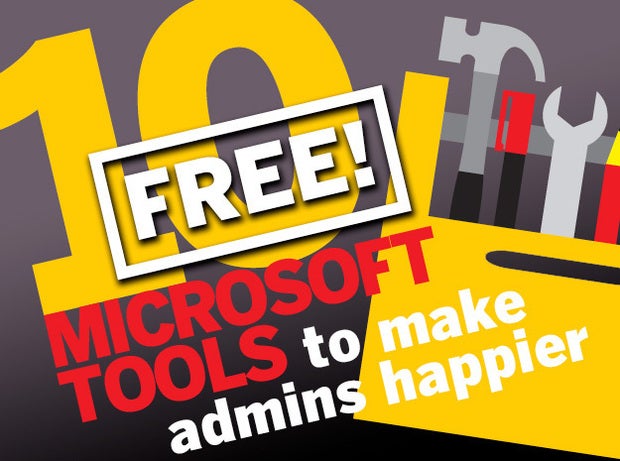 Microsoft has a wealth of free tools and utilities for boosting security, cutting costs and speeding up the everyday chores that admins face keeping their networks running in tune. Here is a smattering of just a few that can make life easier for networking pros seeking a better way to do their jobs. (Check here for more tools.)
PCmover Express for Windows XP
Microsoft is making PCmover Express from Laplink available for free. This application copies files and settings from Windows XP PCs to new Windows 7 or Windows 8/8.1 devices. Files include documents, music and videos as well as email and user profiles and settings. The app is available for download via WindowsXP.com.
Microsoft Baseline Security Analyzer

The Microsoft Baseline Security Analyzer identifies missing security updates and common security misconfigurations on Windows desktops and servers, and it recommends how to remediate the problems it finds. The latest release supports Windows 8.1, Windows 8, Windows Server 2012 R2, and Windows Server 2012. Windows 2000 is no longer supported with this release. 
Microsoft IPsec Diagnostic Tool

For businesses using IPsec VPNs, this tool can help administrators troubleshoot network-related failures by searching for network problems on the host machine and suggesting fixes. At the same time it gathers policy information on the IPsec system and examines IPsec logs to figure out the root cause of problems. It provides trace collection for VPN connections, the Network Access Protection (NAP) client, Windows Firewall, Group Policy updates, and wireless and system events.
Sysinternals Troubleshooting Utilities
The Sysinternals Troubleshooting Utilities have been rolled up into a single suite that contains 70 individual troubleshooting tools and help files. It includes AccessChk, Debug View, Desktops, Logon Sessions, PortMon, PsLogist, Sync and WhoIs. It does not contain non-troubleshooting tools like the BSOD Screen Saver or NotMyFault.
PsExec
PsExec is an agent-free command line utility that can execute programs on remote systems. The key here is that the functionality comes without needing to deploy an agent on each endpoint that needs to be accessed as is the case with some third-party alternatives. PsExec can be used to launch interactive command prompts as well as extend other tools such as IpConfig to show information about remote systems.
Microsoft Security Compliance Manager
This tool makes it easier to plan, implement and then monitor whether baseline security is met within Active Directory. Microsoft Security Compliance Manager enables viewing, updating, and exporting Group Policy settings for Microsoft client and server operating systems and applications. The baseline policies reflect security best practices that can be customized for the needs of individual businesses.
URLScan Security Tool
URLScan can restrict the types of HTTP requests that reach Microsoft's Internet Information Services Web server. Based on rules, it scans URL requests for potentially dangerous content and flags anomalous traffic to block those requests that are deemed potentially threatening to applications on the server. URLScan can harden the system's vulnerability to certain known virus, worm and hacker attacks.
Remote Server Administration Tools
Remote Server Administration Tools enable remote management roles and features in Windows Server 2012 R2, Windows Server 2012, Windows Server 2008 or Windows Server 2008 R2 from a computer that is running Windows 8.1, Windows 8, Windows Vista, or Windows 7. A handy package for IT pros, there are different releases for the different operating systems.
Exchange Server Deployment Assistant
As businesses move from earlier versions of Microsoft Exchange Server this tool can help them customize deployment of the new server based on individual needs. Exchange Server Deployment Assistant runs users through a series of questions about the deployment environment and the business's requirements and then generates a checklist to follow during the actual deployment. This includes help for hybrid deployments that blend on-site instances of Exchange with Exchange Online.
Active Directory Explorer
Active Directory Explorer is an advanced viewer and editor to navigate an AD database, define favorite locations, and edit permissions. It also supports viewing object properties and attributes without having to open dialog boxes, and can execute searches that can be saved and re-executed. It can capture snapshots of AD databases that can be explored offline as if they were live, and that can be automatically compared with other snapshots to locate changes.
Copyright © 2014 IDG Communications, Inc.
Next Up: Check out these related slideshows