Celebrating 25 years of Cisco Networkers
This year, Cisco recognizes the 25th anniversary of its Networkers user conference. To put this run in perspective, here's a timeline of Cisco-specific events interspersed with world, national, cultural and technology milestones that occurred over this period.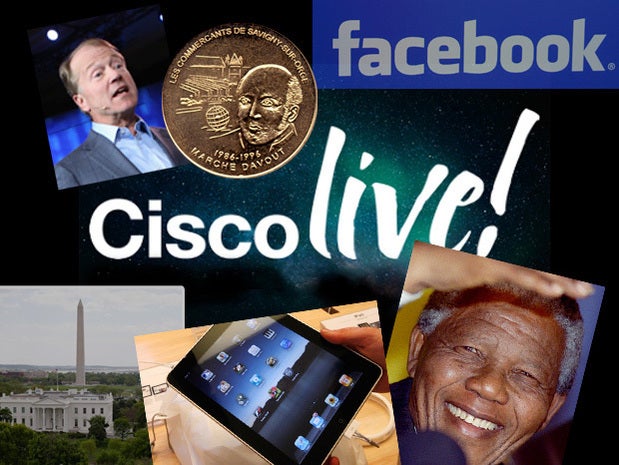 1989 – Gateways between private e-mail carriers and the Internet are established; Cisco's inaugural Networkers conference.
1990 – The Hubble space telescope is launched; Cisco goes public.
1991 – John Chambers joins Cisco as senior vice president of worldwide sales and operation.
1992 – Compact discs surpass cassettes; Cisco earns its first patent for the Interior Gateway Routing Protocol, its method and apparatus for routing communications among computer networks.
1993 – The White House and United Nations launch websites; first attempt at cloning human cells; Cisco ships its 100,000th router and introduces the Certified Internetwork Engineer (CCIE) program.
1994 – Nelson Mandela elected President of South Africa.
1995 – MIR, shuttle dock; Chambers becomes CEO.
1996 – Cisco introduces the Catalyst 5000 switch.
1997 – Hong Kong returns to Chinese rule.
1998 – Europe agrees to single currency, the Euro.
1999 – Y2K "bug" hits the computer industry; Cisco is the 8th most admired company, according to Fortune.
2000 – The Human Genome deciphered; Cisco becomes world's most valuable company in terms of market capitalization; the dot-com bubble inflates and bursts.
2001 – September 11 terrorist attacks; AbioCor artificial heart invented.
2002 – Pennsylvania miners rescued after 77 hours in a flooded shaft; Cisco ships its 1 millionth IP phone.
2003 – Fast spreading Blaster worm infects tens of thousands of Windows PCs worldwide.
2004 – 3G wireless becomes available; Red Sox win first World Series since 1918; Cisco launches the CRS-1.
2005 – Hurricane Katrina devastates New Orleans.
2006 – Twitter short message services site begins; Cisco sells more than 2 million Integrated Services Routers.
2007 – Apple introduces the iPhone; Argentina elects first woman president; Cisco combines Networkers conference with Cisco Live exhibition as "Networkers at Cisco Live".
2008 – Barack Obama elected, first African American president; Google launches Android; Cisco announces that its 10-year-old Cisco Networking Academy program has provided more than 2 million students with information technology and networking skills.
2009 – US Airways pilot Chesley Sullenberger safely lands plane in the Hudson; end of the US Great Recession; Cisco enters blade server market with Unified Computing System.
2011 – Osama Bin Laden killed; Middle Eastern spring of protests.
2012 – Facebook IPO; Encyclopedia Britannica ceases print publication; Cisco's revenue is $46 billion.
2013 – Nelson Mandela dies.
Copyright © 2014 IDG Communications, Inc.
Next Up: Check out these related slideshows