13 FREE! Windows 8.1 apps to make you more productive
From learning Windows shortcuts to remotely monitoring IT assets, Windows 8.1 devices can make you more efficient and effective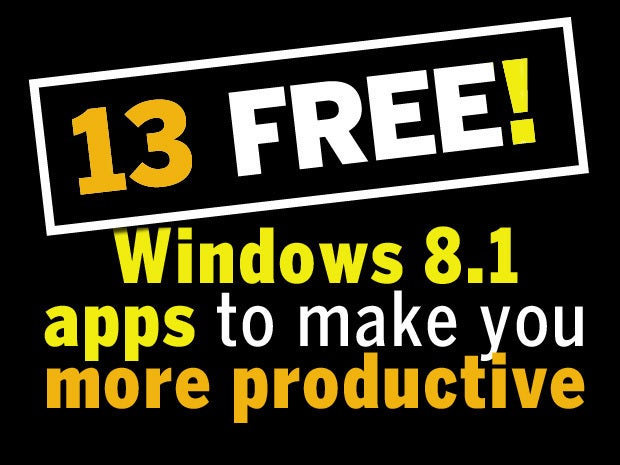 Windows 8.1 apps are proliferating – nearing 150,000 in number – and many have been designed to expand the functionality of devices that are based on the operating system and to give users an edge at work. Some of them have a cost attached to them, but here is a smattering of just a few of these applications that are free.
Adobe Reader Touch
This is Adobe Reader that many users know from their desktop updated for Windows 8's touch interface. It allows annotating pages and drawing on them to mark key passages. Tap to open documents or issue commands. It sorts out most recently read documents and allows viewing password-protected documents.
Dropbox
This is the Windows 8 version of the popular cloud storage service app that allows browsing, renaming, and previewing. It enables editing files created in other Windows 8 apps. It is integrated with the operating system so that within the app the Share Charm makes it simple to deliver photos and documents to others. The Search Charm can be used to find files stored in Dropbox.
Windows 8 Cheat Keys
This is an educational app that gradually eases users into keys and tips that make it easier to get around Windows 8. It delivers a few a day through notifications that appear in the upper corner of the Start screen. It also posts live tile updates on its Start screen tile, and it supports Share, Search and Notification charms. It includes a complete list of tips and keys that users can view all at once.
Work Notes Pro
This enables recording and share videos and voice messages as well as storing drawings, notes and photos and storing them in applications, contacts and private clouds. It can also sync with Microsoft's SkyDrive for accessing content from any device.
TeamViewer Touch
This turns a Windows 8 tablet into a help-desk or remote server administration tool by enabling the user to wake remote machines and take remote control of them. It can also be a productivity tool by enabling workers to access computers remotely where otherwise they would have to physically access the machines.
Lync Windows Store
This is the free Windows 8 client for Microsoft's communication platform. It makes it possible for anyone with a Windows 8 machine of any type to join a Lync meeting. Those with Lync accounts get access to advanced features, but the basic app lets people participate. Like other Lync clients it supports audio, video and instant messaging.
Word2PDF
This app has a simple mission: converting Word documents into PDFs. That's it. The documents to be converted can be online or stored locally.
Search All
This aggregates a dozen popular sites for searching a range of subjects all on one screen. Tap an icon to search using that site. A handy tool for research-focused users.
to-dos
A live tile appears on users Start screens, displaying tasks and checklists. The tile itself can be the large size for easy reading and can auto sync with individuals' other Windows 8 machines. The app can be snapped on the screen with other apps so users can view their lists while accessing other tasks.
Norton Zone Cloud File Sharing
For file sharing without posting to public sites, Norton Zone Cloud File Sharing lets users determine who can reach posted materials. The app is from Symantec. NOTE: The company warns it only works best in the U.S., with slow transfers an issue elsewhere.
PC Monitor
Critical IT systems are automatically monitored and displayed by the PC Monitor application, including network performance, IIS, Exchange, Active Directory and Hyper-V among others. Users can drill down to particular machines to determine status and find the causes of issues and stop, start, pause and restart them.
DocuSign Ink
With DocuSign Ink, businesses can eliminate the need to send or fax physical documents for signatures. Instead they can be securely sent electronically for signatures that are legally binding. The app tracks progress of each document.
Last Pass
It's hard to remember all the complex and unique passwords dreamed up for the range of sites Internet users visit, and Last Pass automatically captures them, stores them securely online, makes them available to autofill user name and password on sites being visited. It also generates secure passwords with a single touch.
Next Up: Check out these related slideshows