Inside Apple's iPad world-wide ubiquity
As iPad 3 emerges, we look at the iPad as a cultural phenomenon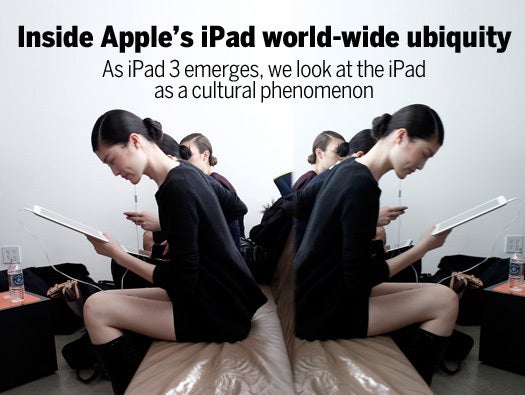 With the advent of the Apple iPad 3 this week, the device will likely reach an all-time high in popularity. The iPad already seems to turn up just about everywhere in all sorts of situations, some historical, some not so much. Here we have a round-up that shows off the iPad's growing ubiquity.
Photographs of residents who took part in what's known as the "3.11 Portrait Project" are displayed on an iPad at the Midorigaoka temporary shelter in Koriyama, Fukushima, Japan. The 3.11 Portrait Project was conceived by photographer Nobuyuki Kobayashi who, with the help of hair and makeup artists and other volunteers, takes portraits of earthquake survivors in Tohoku, many of whom lost all of their family pictures in the March 11, 2011 tsunami disaster.
The Game of Life zAPPed at Hasbro's American International Toy Fair showroom in New York this Feb. 10. Having found this holiday season that they cannot beat iPad, iPhone and iPod, toymakers have decided to join them, lining up a host of playthings that come to life when hooked up to the devices, gadgets that kids love to play with.
Here President Barack Obama's assistant Reggie Love takes video using his iPad of damage caused by devastating severe storms and tornadoes in the Tuscaloosa, Ala., in April 2011.
A representative demonstrates a $199 Nomad bag speaker system from The House of Marley for the iPad at the Consumer Electronics Show opening event in Las Vegas last January.
An anti-government protester films with her iPad during an al-Wefaq rally in Sanabis, west of Manama. 
A man films a concert to mark the official opening of the National Stadium in Warsaw in January.
A visitor uses her iPad to photograph "Damaged Dumbo", a sculpture created by Renato Barja Jr on display at the Singapore Botanic Gardens. The sculpture is part of the Elephant Parade, a collection of 162 elephant sculptures.
Wendy Mittelstadt, product manager for Ion, poses with the company's Guitar Apprentice guitar controller for the iPad at the Consumer Electronics Show.
Here a man checks an Apple iPad as he stands next to a portrait of the late Apple co-founder Steve Jobs at a shop in Payetakht (Capital) computer centre in northern Tehran.
A protester holds an Apple iPad 2 tablet displaying a candle during a candle-light rally demanding the invalidation of South Korea's free trade agreement (FTA) with U.S. and the resignation of South Korean President Lee Myung-Bak, in central Seoul last December.
Here a man takes pictures with his iPad during the unveiling ceremony of a statue of the late Apple co-founder Steve Jobs at a private business park in Budapest.
Republican presidential candidate and former Massachusetts Governor Mitt Romney (L) and U.S. Senator John McCain (R-Ariz.) (C) talk on Romney's campaign bus enroute to Peterborough, N.H., last January, one day after Romney won the Iowa caucus. Press secretary Andrea Saul works on her iPad at right.
Ed Damiano uses an iPad in the family's kitchen in Acton, Mass., to remotely monitor the glucose of a study subject in real time. Damiano, whose 12 year-old son David was diagnosed with type 1 diabetes at 11 months old, is working on a bionic pancreas that will automatically control blood glucose in people with type 1 diabetes.
Police arrest a protester looking at his iPad as they dismantle the Occupy LA encampment outside City Hall in Los Angeles last November.
Shoppers look at the tablet computer IPad 2 at a Best Buy Store on the shopping day dubbed "Black Friday" in Framingham, Mass., last November.
Here a man uses an iPad to record the arrival of Pope Benedict at the Stade de l'Amitie (Friendship Stadium) in Benin's economic capital Cotonou.
German Interior Minister Thomas de Maiziere watches as Labour Minister Ursula von der Leyen (R) picks up Finance Minister Wolfgang Schaeuble's iPad after it fell on the floor.
Here a bishop holds a tablet during the United States Conference of Catholic Bishops in Baltimore, Md., Nov. 14, 2011.
A man watches a recorded video message of outgoing Prime Minister Silvio Berlusconi in Rome last November. Italy's head of state begins talks on Sunday to appoint an emergency government Berlusconi and handle a crisis that has brought the euro zone's third largest economy to the brink of financial disaster.
A visitor uses his iPad to take a photograph of a painting titled "The Kiss" at an exhibition showcasing works by Spanish artist Pablo Picasso in the Art Gallery of South Australia in Sydney.
Customers browse at a Wal-Mart.com store as an iPad (front) is pictured at the Topanga Plaza in Canoga Park, Calif., Nov. 8, 2011.
U.S.Treasury Secretary Tim Geithner, holding an iPad, walks to the motorcade upon his arrival for the G20 Summit in Cannes.
U.S. Air serviceman's iPad is seen on a table as he packs his luggage before flying to the U.S., at al-Asad air base in Iraq's western province of Anbar.
Poland's Deputy Prime Minister Waldemar Pawlak shows his broken iPad at his office in Warsaw.
Employees of German publishing house Luebbe Digital dressed as monks and posed with an iPad displaying the new interactive novel Apocalypsis at the Frankfurt Book Fair Oct. 13, 2011.
A man takes a picture with his iPad of the Brandenburg Gate as it is illuminated during the Festival of Lights in Berlin.
Los Angeles Police Department Detective Scott Smith (L), reads notes from defense attorney Ed Chernoff's iPad during Dr. Conrad Murray's trial in the death of pop star Michael Jackson in Los Angeles.
Senators De Vries-Leggedoor(L) , Flierman and Martens (R) look at their iPads in the House of Parliament in the Hague. Members of the Dutch Senate, or upper house of parliament, won't strain their backs or weigh down their bike panniers by carrying stacks of printed documents from work any more, since they are all now expected to work on their Apple iPads.
A performer plays a game on an iPad while waiting for a Beijing opera performance, ahead of the closing ceremony of the 1st young Beijing Opera actors' arena contest in Beijing.
Formula One driver Michael Schumacher poses with an IPad-driving safety game at the European Parliament in Strasbourg.
U.S. President Barack Obama shares a laugh with Vashti McKenzie of the African Methodist Episcopal Church after commenting that her prayer would be read from an iPad during an Easter Prayer Breakfast.
Virgin Group head Richard Branson holds an Apple iPad.
Pianist Liu Wei who is armless, plays with an iPad with his toes before a promotional event for a local television channel, in Beijing. Liu, 23, who plays with his toes has won the first series of China's version of the internationally popular television talent show "China's Got Talent."
Here a man wearing a costume representing an iPad poses with his iPad after purchasing it at an Apple store in Tokyo May 28, 2010.
Dreyer & Reinbold Racing driver Tomas Scheckter of South Africa works on his iPad in the cockpit of his race car during practice at the Indianapolis Motor Speedway in Indianapolis.
People including Frank the dog (R) wait in line for the release of Apple's iPad 2 outside the Apple store in Vancouver, British Columbia.
A man on a ferry uses an iPad to take a photo of the cruise liner Costa Concordia off the west coast of Italy at Giglio island.
Abbey 3D - an app for Android, iPhone and iPad users is displayed at Westminster Abbey in central London last April. Mobile-phone users across the globe were able to take a virtual walk up the aisle of Westminster Abbey ahead of Prince William and Kate Middleton's wedding.
Copyright © 2012 IDG Communications, Inc.
Next Up: Check out these related slideshows