A look back at the first iPhone debut day
Steve Jobs unveiled first iPhone at Macworld on Jan. 9, 2007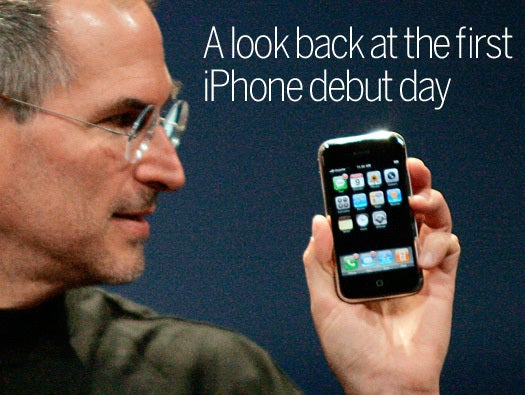 The first iPhone unveiling
In his hands
Steve Jobs cradles the first iPhone from the stage of Macworld.
Contortionist Steve
Presumably demonstrating what's necessary to use an existing phone, Jobs gestures during his Macworld presentation.
iPhone under glass
One of only three reportedly on hand that day, an original iPhone sits behind glass as Macworld attendees ogle.
Publicity photo
The first iPhone as Apple marketing intended it to be seen on Day One.
Remember Cingular?
Steve Jobs shakes hands with Stan Sigman, chief executive officer of Cingular Wireless, after introducing the new iPhone and announcing that Cingular would be its exclusive carrier. By the time the iPhone hit retail stores in June, Cingular had been rebranded AT&T. Sigman retired later that year.
In happier times
Welcoming him onto the Macworld stage, Steve Jobs shakes the hand of then-Google CEO Eric Schmidt.
New online shop
Here's what Apple.com's new iPhone section looked like the day after, courtesy of the Internet Archive Wayback Machine.
The press release
There's nothing modest about that headline. Of course, it was accurate, too.
Jobs unveils the iPhone (Part 1)
The first mention of the iPhone comes at 3:00; the first glimpse of the "giant screen" comes at 6:30; and, at 7:05 Jobs says: "We have invented a new technology called multi-touch, which is phenomenal; it works like magic. You don't need a stylus. It's far more accurate than any touch display that's ever been shipped. It ignores unintended touches; it's super smart. You can do multi-finger gestures on it. And boy have we patented it." He milks the last line for all it's worth as the audience laughs and applauds for a full 10 seconds.
Jobs unveils the iPhone (Part 2)
He runs through the specs at about the 2:00 mark and the actual demonstration starts at 5:30.
Jobs unveils the iPhone (Part 3)
The big finish seemed somewhat lacking in a big finish.
Copyright © 2012 IDG Communications, Inc.
Next Up: Check out these related slideshows