10 reasons for IT job-hunters to be optimistic
IT employment numbers are rising, employers are forging ahead with hiring plans, and CIOs are confident about business operations and budget stability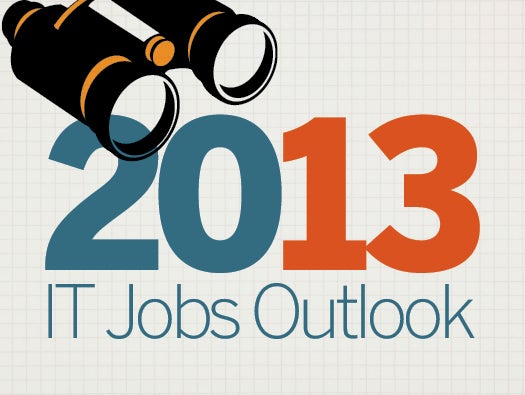 IT jobs outlook
The second half of 2013 is looking good for job-hunting IT pros. IT employment numbers are rising, employers are forging ahead with hiring plans, and CIOs are confident about business operations and budget stability. Such positive indicators are leading more IT pros to voluntarily leave their jobs in search of greener IT pastures.
RELATED: CEO PAY: Cash, stock awards, perks add up to big pay packages
2013 JOB WATCH: Top 11 metro areas for tech jobs
IT job growth continues
IT jobs have been on a sustained growth trajectory this year, says David Foote, chief analyst at Foote Partners, which bases its growth estimates on four bellwether IT jobs segments. "IT employment in the first half of 2013 is averaging 13,500 new jobs per month. In the past 12 months the monthly average was just over 12,000 jobs, and in the year 2012 average growth was only 9,442 per month. That's a 43 percent increase so far this year compared to all of 2012 and that is exactly why it's good to be an IT professional," Foote stated in early July.
Hiring pace accelerating
The rate of growth of IT employment continues to accelerate, says TechServe Alliance, a collaboration of IT and engineering businesses. On year-over-year basis, IT employment has grown by 5.71% since June 2012, adding almost 241,700 IT workers, the alliance reports. (TechServe Alliance analyzes a wider swath of IT data than Foote Partners, which focuses on four IT jobs segments.)
IT salaries inch up
On the salary front, the news is positive -- though only marginally. Between June 2012 and June 2013, the total mean compensation for all IT professionals increased 0.45% from $78,759 to $79,112, according to Janco Associates. "This puts overall compensation back at the levels they were at in January 2008 and 2007," the firm states. In midsize enterprises, the mean total compensation increased from $75,463 to $75,727, and in large enterprises, median compensation rose from $82,054 to $82,498.
Salary increases accelerating
Looking ahead, starting salaries for tech pros in the U.S. are on the rise, says Michael Kirven, founder and CEO of tech staffing firm Mondo. "The trends that I'm seeing today are very, very optimistic," Kirven says. Midway through 2013, "the rate of IT hiring and the rate of IT salaries is accelerating" compared to the first half of the year, he says.
Multiple job offers
Employer confidence is helping to boost IT hiring, says Jack Cullen, president of IT staffing firm Modis. "The IT job market is very healthy these days, with particular growth in the Northeast, Mid-Atlantic, Midwest and Southern regions of the country. Mobile development, database and healthcare IT positions are in demand across the country," Cullen says. "Candidates are being interviewed and hired faster than ever and receiving multiple job offers with competitive compensation packages."
Budget confidence
Compared to a year ago, IT executives are more confident that they'll be able to spend all their budgeted money, according to Computer Economics' IT Spending and Staffing Benchmarks study. Just 20% of respondents anticipate not being able to spend all of the money in their plans this year, which is down from 31% last year.
Hiring optimism
Dice.com surveyed 1,000 hiring managers and recruiters, and 73% said they plan to hire more technology pros during the second half of 2013 than they did during the year's first six months.
Voluntary departures rise
More tech pros are voluntarily quitting their positions in 2013, as compared to last year, say 33% of corporate hiring managers surveyed by Dice. In addition, 32% of respondents say that more candidates are rejecting job offers than were just six months ago.
CIO confidence climbing
Robert Half Technology (RHT) reports that 12% of U.S. CIOs plan to expand their IT teams in the third quarter of 2013. In addition, 56% plan to hire for open IT roles, 26% expect to put hiring plans on hold, and 6% plan to reduce their IT staff in the third quarter. RHT also asked about CIOs' confidence levels: 85% reported that they're somewhat or very confident about their companies' prospects for growth in the third quarter, and 63% feel somewhat or very confident in their firms' third-quarter investment in IT projects.
Caution remains
Computer Economics paints a different picture, however, in its IT Spending and Staffing Benchmarks study, published in June. The reports that 43% of IT organizations plan to increase staff headcount, while 25% expect to reduce headcount. "The job outlook is improving, but the improvement is marginal," Computer Economics reports.
Copyright © 2013 IDG Communications, Inc.
Next Up: Check out these related slideshows