Delivery Drone Wars!?
Amazon, DHL, FedEx all in on using unmanned aircraft for package services. What's next?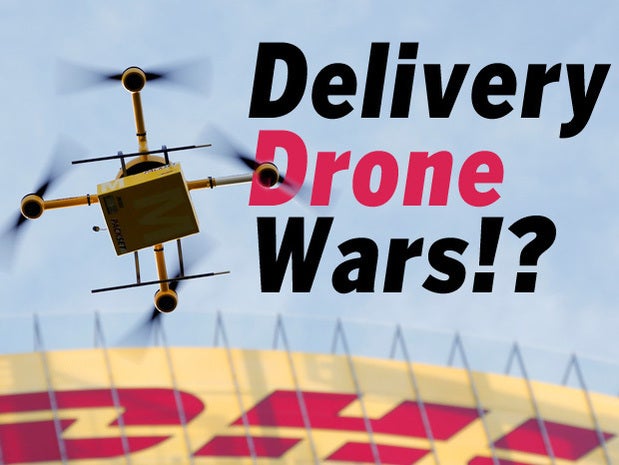 Not to be outdone in the drone delivery department, Europe's largest delivery service Deutsche Post DHL recently said it too had a drone called the "parcelcopter" that could be used to deliver packages. You may recall Amazon's Jeff Bezos said recently that Amazon was experimenting with a delivery drone service as well. But UPS and FedEx are also on the drone radar. We haven't heard anything from the US Postal Service….yet. Are we on the verge of a delivery drone war?
Here is the DHL Parcelcopter prototype "parcelcopter."
A flock of pigeons flies with a prototype "parcelcopter." DHL said it tested the drone with two employees controlling it from the ground. The drone flew about a half a mile, at a height of about 165 feet. 
The modified microdrone costs $54, 900.
The DHL drone can carry up to 2.6 pounds, and can autonomously navigate using GPS.
Another shot of the "parcelcopter."
On a segment of CBS' "60 Minutes" Amazon's Bezos recently said the company was developing a drone-based delivery service called Prime Air that would be able to pick up and deliver 5 pounds and under packages in a half hour. Whether or not the technical hurdles required for such a service are ever overcome, it's great PR. "I know this looks like science fiction. It's not," Bezos said.
But DHL and Amazon are not alone. As the Washington Post recently reported FedEx chief executive Fred Smith has been discussing the use of unmanned aircraft in backhaul shipping for some time. He's not talking the small individual packages drone, though. Smith thinks future cargo planes will favor a "blended wing" design that looks like a cross between a traditional airliner and a stealth bomber, the Post article stated. Here we see a Boeing X-48C Blended Wing Body research aircraft.
UPS also says it is looking at drones, but has largely kept any details of such as service quiet.
And then of course there's this parody drone service, which makes the mall look a little…silly.
Copyright © 2013 IDG Communications, Inc.
Next Up: Check out these related slideshows