Looking back at the Windows XP era
The tech world has changed out of all recognition since Microsoft's Windows XP operating system's release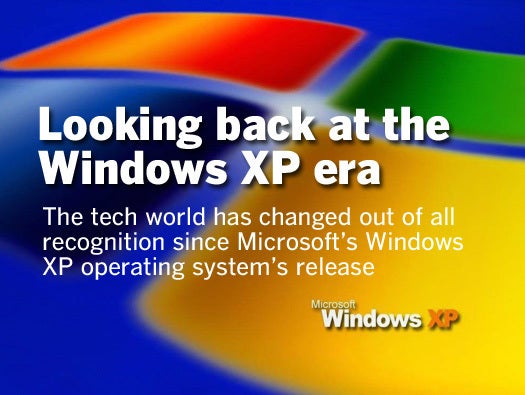 What a long, strange trip it's been
Bring out your modems
While it might feel like the Internet is a daily constant in the lives of almost all Americans, it wasn't always so – according to statistics from the International Telecommunications Union, less than half of U.S. residents were internet users in 2001.
Chugging along
The next time you get exasperated at your smartphone's slow processor speed, consider this: That 1-GHz processor powering your handheld would have been considered top-of-the-line – in a desktop PC back in 2001.
A different view
It's difficult to overstate the extent to which the business IT climate has changed. Cisco's annual report from 2001 addresses the question of whether "customers continue to believe in the benefits of the Internet" and touts the company's commitment to IP technology. SOURCE: Cisco
Oh, yeah, I've heard of Google
Calling Google the 800-pound gorilla of the Internet may be underselling its dominance, though it has been challenged for raw page views of late by Facebook. In 2001, however, the picture was very different. Google ranked below sites like Geocities, Excite and Neopets.com, according to statistics from online researcher Compete. SOURCE: Wonder-Tonic's Geocities-izer
Welcome IE6!
Internet Explorer 6 was released a few months before XP, and quickly became the dominant force in the web browser market. Much to the irritation of security developers, the browser maintained a relatively substantial usage level for years, even after several new versions of IE were released – due in part to being the default browser for new Windows XP installations. SOURCE: SaveIE6.com
The worm turns
The big malware threat in 2001 was the worm, in the form of nasties like Sadmind, Sircam and Code Red. Explosive Internet usage growth and a still-nascent public awareness of the importance of digital security helped them spread.
Console wars
Video gaming was changing quickly in 2001, with the introduction of the Nintendo GameCube and Microsoft Xbox within days of each other.
Life after the bubble
The collapse of a number of heavily hyped tech startups affected a number of business IT stalwarts in 2001. However, many of the industry's big names – including Google and Amazon, among others – managed to thrive after the dot-com bubble burst. SOURCE: Wired.com
"Smart"phones?
Let's be clear – if you had a smartphone in 2001, you were one of a very, very small minority. While forerunners like the IBM Simon had been around for years, the BlackBerry craze was still far off on the horizon, to say nothing of Droids and iPhones. SOURCE: CNET
Outside the office
Of course, there were plenty of differences outside the office, as well. Gas prices had just begun their upward climb, social media hadn't really been invented yet, and the Yankees were routinely winning world championships. SOURCE: SportsIllustrated.com
Next Up: Check out these related slideshows